Newly Launched Taro Motorcycles brings new year offer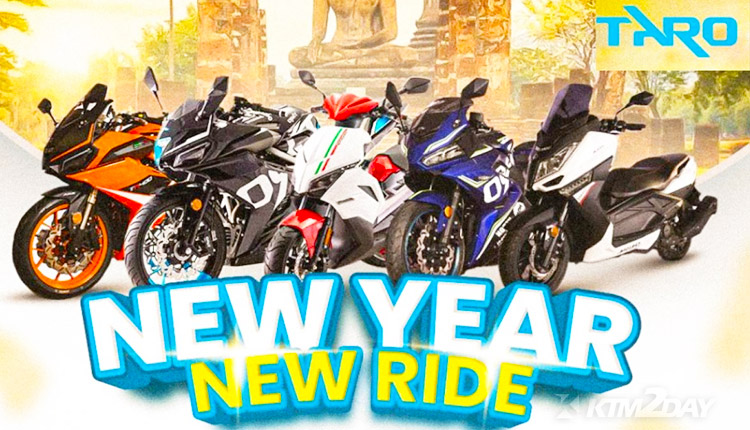 Om MotoCorp Pvt. Ltd., a subsidiary of SG Group, has recently introduced two-wheeled bikes and scooters of Taro brand in the Nepali market with Italian technology and design.
The company has introduced Taro brand Imola 150 Alexone and T9 150cc scooters in two models and GP2 200, GP1 250 SR / GP1 380 three models of premium bikes in the Nepali market.
Read This :  Taro Motorcycles Price in Nepal :: All Models with Specs
Expanding its corporate showroom at Naxal's Narayan Chowk, it has finalized the construction of its state-of-the-art service center at Bhatkekopool in Kathmandu and in the corridor of Ratopool.
In addition, Teku-based Bikers Mart has been selling the brand's bikes and scooters, taking the company's official selling point.
Dealers will be expanded in Dharan, Itahari, Birtamod, Damak, Chitwan, Butwal, Pokhara, Dang, Nepalgunj and Dhangadhi.
Along with this, the company has completed the process of dealer selection in Hetauda and has started the construction work of the necessary infrastructure.
Similarly, Om Automobiles based in Sanopokhara has been providing sales service.
The company has set the selling price of its Imola 150 at Rs 330,000, GP1 250 SR at Rs 650,000 and GP1 380 CC at Rs 950,000.
In addition, the company has made public its offer targeting the new year 2079, which will be valid from Chaitra 24 to Baisakh 31, 2079.
Under this offer, customers who purchase a scooter of Taro brand, will get a direct discount of Rs 15,000.
Similarly, a Rs 20,000 discount on purchase of GP2 200, Rs 25,000 discount on purchase of GP1 250 SR and Rs 30,000 discount on purchase of GP1 380 is made available under this new year offer.
In addition, the company is also offering Bangkok package through lucky draw to 2 lucky customers who purchase Taro brand of two-wheelers during this period.