Philips EVNIA 34 inch Gaming Monitor unveiled with Mini LED curved screen, 165Hz Hz and more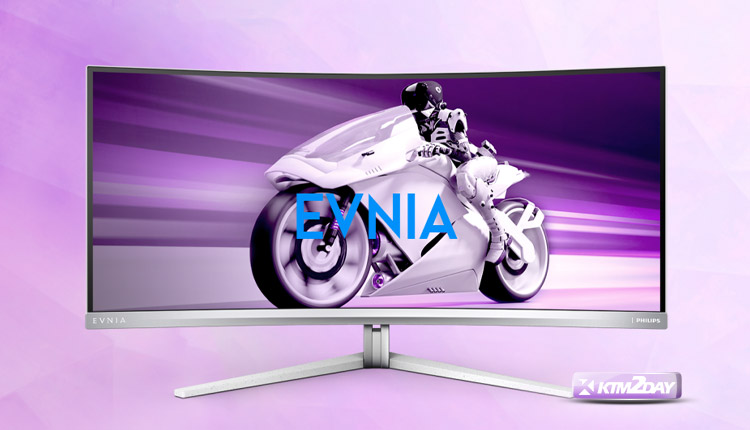 Today, Philips EVNIA formally unveiled the 34M2C7600MV as the company's first gaming monitor. The smart monitor features a 34-inch curved screen with MiniLED technology that has 1152 light-controlled zones.
The Screenio U5 4K projector and the Hue Festavia Smart String Lights were also recently released by the company.
Also Read : Philips LED TV Price In Nepal
The 34-inch curved screen of the Philips EVNIA gaming monitor has a VA panel with a resolution of 3440 x 1440 pixels and offers a high refresh rate of 165 Hz.
It uses Mini LED backlighting at the same time, with 4608 lamp beads and 1152 backlight partitions.
Additionally, it is DisplayHDR 1400 certified, has a peak brightness of up to 1400 nits, and covers 97% of the DCI-P3 color gamut.
The monitor has two 5W stereo speakers that can play DTS sound effects, which are used for audio.
Utilizing cutting-edge Ambiglow ambient light technology, the monitor is outfitted with a surround ambient light on the back.
The color of the displayed image and the music's rhythmic variations are synchronized with changes in the light.
Additionally, this monitor features the clever split-screen feature, which makes it possible to connect and display dual-channel signals simultaneously.
The two divisions of the screen don't interfere with one another. In KVM mode, users can easily switch between controlling two devices, such as a keyboard and mouse.
The monitor has HDMI 2.1, DP1.4, and USB 3.2 connectors for interfaces. A USB-C port that allows 90W reverse charging is also present.
The new monitor's official pricing and launch date have not yet been disclosed, although they are anticipated to do so soon.