Redmi 10 VS Redmi 9 : Xiaomi shows what has gotten better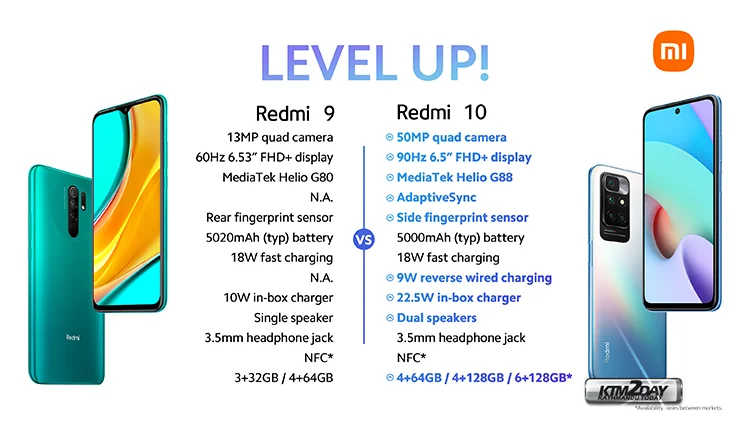 Xiaomi recently launched the Redmi 10 in some Asian markets which will be available in stores starting from August 28.
The Chinese company compared the new model with last year's Redmi 9 model which shows clearly how much the new model offers in terms of features and pricing.
The recently launched Redmi 10 comes with several premium features packed in a mid-range device. To start off, the cameras on the rear now comes with 50 Megapixel quad camera setup compared to 13 MP on the Redmi 9 model.
The smartphone now features 6.5 inch Fulll HD+ Display with 90 Hz refresh rate , an upgrade from 60 Hz on the Redmi 9.
Similarly, Redmi 10 now comes powered by the latest Mediatek Helio G88 processor which offers Mediatek HyperEngine 2.0 Lite generation technologies, Dual 4G VoLTE and Integrated Voice Wakeup.
The display on the Redmi 10 also features Adaptive Sync which adjusts the display's refresh rate to match the GPU's outputting frames on the fly which means less stuttering and screen tearing during gameplay.
The smartphone now features side-mounted fingerprint reader and dual speakers. Redmi 9 model on the otherhand had fingerprint reader on the rear panel below the main cameras and only came with single speaker.
The Redmi 10 now includes a reverse wired charging and comes with a powerful 22.5W charger in the box.
Compared to the Redmi 9 model, the Redmi 10 model will be offered in three storage options of 4GB RAM+64 GB storage, 4GB RAM+128GB storage and 6 GB Ram +128 GB storage.
The Redmi 10 model is expected to launch in Nepali market in the next few months during the festival season.