Safer Internet Day Celebrated with Cyber Safety Awareness Activities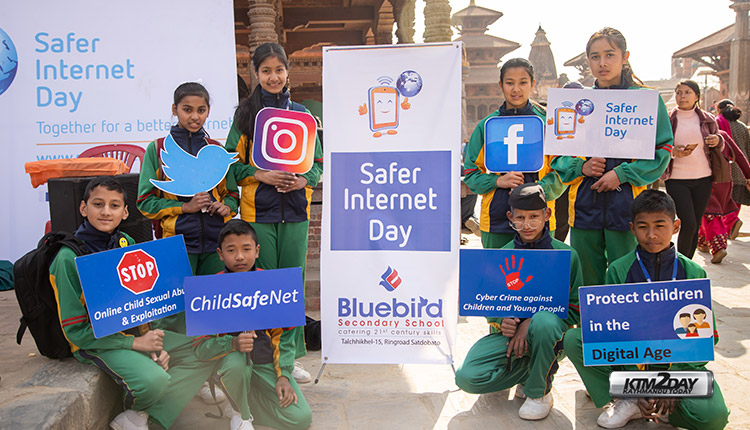 ChildSafeNet, together with partner organizers, organized a cyber safety awareness event to mark the Safer Internet Day 2020 on 11 February 2020 at Patan durbar square area, with the slogan, "Together for a Better Internet". ChildSafeNet, a specialized organization working to protect children and young people online is the coordinator and promoter of the Safer Internet Day in Nepal.
"Along with the progress, the digital technology also brings numerous adversities to children, such as, internet addiction, online sexual abuse & exploitation, phishing, cyber bullying, sextortion, catfishing, revenge porn, gambling and exposure to sexual contents," Anil Raghuvanshi, the President of ChildSafeNet, stated. He added, "children and young people have right to be protected online, same as their right to be protected offline". He urged the government, private sector, schools and parents to invest in making the internet safer.
The event, open for public in the historical place attracted children, young people, parents and teachers. The awareness raising programme disseminated cyber safety messages through interesting dramas, hot debates, melodious musical performances, a stand-up comedy and cyber safety discourses. Bal Vatavaran Kendra Nepal and students of Blue Bird School, Lalitpur conveyed cyber safety messages through dramas, whereas, Sushant Ghimire from Red Circle Creative Solutions performed unplugged versions of popular Nepali songs. Similarly, Sujal Poudel from Apex Life School performed a stand-up comedy act on online habits of Nepali children and young people.

During the event, ChildSafeNet announced its recent partnership with Internet Watch Foundation to promote the Nepal portal for reporting child sexual abuse imagery. He informed that anyone can report anonymously child sexual photos or videos found on the internet in Nepali or other languages by clicking https://report.iwf.org.uk/np.
Speaking in the programme, police Inspector Umesh Sah informed that Nepal Police has established the Central Cyber Bureau in Kathmandu to tackle cyber crimes. Likewise, representing CWIN Nepal, Madhav Lohani informed that online abuses and exploitation can be reported to Child Helpline's toll-free number 1098.
In collaboration with ChildSafeNet, the Safer Internet Day 2020 was also celebrated in other parts of the country. Love Green Nepal organized two cyber safety training sessions at Azad Secondary School, Baluwa and at the organization's training centre at Panchkhal. Similarly, Veda Shreejansheel Sanstha organized two awareness events, including an oratory competition in Sunwal, Nawalparasi.
Likewise, ChildSafeNet trainers conducted cyber safety training sessions at Holy Temple Higher Secondary School, Chhampi and Janajagriti Higher Secondary School, Budhanilkantha. Earlier, as a preparation for the Safer Internet Day, ChildSafeNet conducted a four-day cyber safety training of trainers in Lalitpur from 23 to 26 January 2020.
The Safer Internet Day is celebrated in over one hundred and fifty countries in February each year to promote the safe and positive use of digital technology for children and young people and to inspire a national conversation, sees hundreds of organizations get involved. The day offers the opportunity to highlight positive use of technology and to explore the role we all play in helping to create a better and safer online community.