Samsung Galaxy A23 5G, featuring a 6.6-inch Infinity-V display and a 5,000mAh battery Launched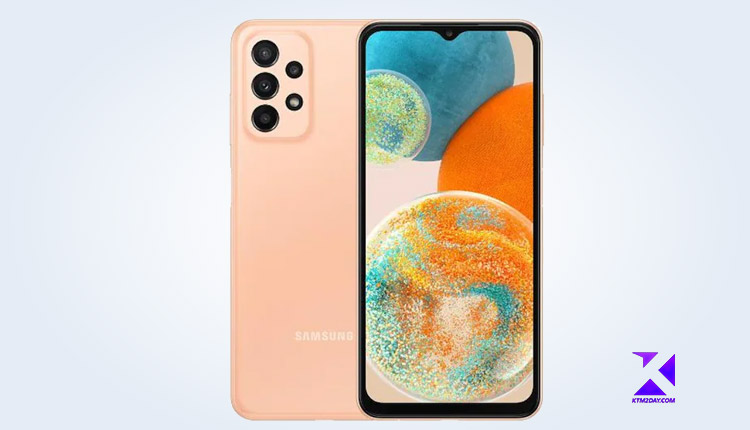 The South Korean electronics giant today quietly unveiled the Samsung Galaxy A23 5G. On the official corporate website, the smartphone has been listed with some details and pictures.
A 6.6-inch Infinity-V display with full-HD+ resolution is available on the Galaxy A23 5G. One UI 4.1 powered by Android 12 powers it.
Samsung did not reveal the SoC, however they did state that an octa-core processor is used. It has a 5,000mAh battery and connectivity options like Bluetooth v5.1 and dual-band Wi-Fi.
Price and availability of the Samsung Galaxy A23 5G (expected)
Pricing and availability information about the Samsung Galaxy A23 5G have not yet been disclosed by the South Korean company. We can consider the cost of the Samsung Galaxy A22 5G to get some context.
The 6GB RAM + 128GB built-in storage version of the Galaxy A22 5G retailed for Rs. 19,999 when it was first introduced in India in July of last year. The cost of the 8GB RAM + 128GB built-in storage was Rs 21,999. So, it is reasonable to assume that Samsung will price the new Galaxy A23 5G similarly. It comes in the colors Grey, Mint, and Violet.
The Galaxy A23 5G can be seen in Pink, Blue, White, and Black color options in the photographs published by Samsung. The company has not yet revealed what each of these color variants would be marketed as. Additionally, Samsung has not mentioned markets where the Galaxy A23 5G has been introduced.
Specifications for the Samsung Galaxy A23 5G
The Samsung Galaxy A23 5G runs One UI 4.1, which is based on Android 12. A 6.6-inch Infinity-V display with full-HD+ resolution is featured on it. It offers options for 4GB, 6GB, and 8GB RAM. It also has internal storage options of 64GB and 128GB. Via a microSD card, the storage may be increased to 1TB. Samsung has not yet divulged the name of the chipset that powers the Galaxy A23 5G; instead, the company has just said that it is an octa-core SoC.
A 50-megapixel primary sensor, a 5-megapixel ultra-wide angle lens, a 2-megapixel macro lens, and an additional 2-megapixel depth sensor make up the Samsung Galaxy A23 5G's quad rear camera configuration. Furthermore, optical image stabilization is supported for the main rear camera. The phone has an 8-megapixel selfie camera with an f/2.2 aperture up front. The company stated that market conditions may affect the camera sensor's availability.
The phone has a battery capacity of 5,000mAh. Connectivity options include dual-band Wi-Fi and Bluetooth v5.1 compatibility. It includes a fingerprint scanner, a gyroscope, an accelerometer, a grip sensor, a virtual lighting sensor, and a virtual proximity sensor. It also has a geomagnetic sensor and an accelerometer. The smartphone weighs roughly 197g and has dimensions of 165.4 x 76.9 x 8.4mm.