Samsung Galaxy A51 Review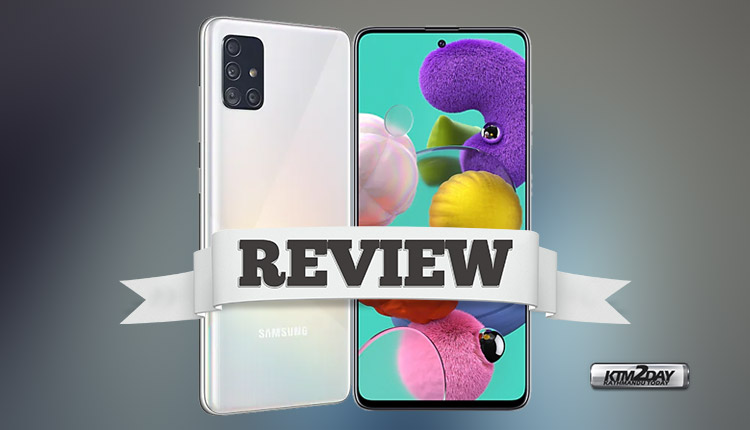 Samsung Galaxy A51 was the world's bestselling Android smartphone model in the first quarter of 2020, the phone was launched in December 2019.
So it has already been six months past it's release date and the Galaxy A51is still a head turner in my opinion when it comes to build quality and design. It looks a lot like a Samsung Galaxy S20 series phones, both at the front with that hole punch display and at the back with the camera array, and this way Samsung makes you feel like you've got a flagship in your hands because of how similar in aesthetic the A51 is.
All right ! So I've had the Samsung Galaxy A51 now for almost about 2 months and in that time I've had the chance to really get down to the nitty-gritty and figure out all the things that make this phone good and not so good. This is one of Samsung's budget to mid-range phones, in some areas it kind of shows but other areas of this phone makes it feel like Samsung just plucked great features from their top-end most expensive phones and just slapped it into this one. That's the major reason why the A51 proved to be a worldwide hit.
Does Samsung match the success of its predecessor with the Galaxy A51? Let's find it out !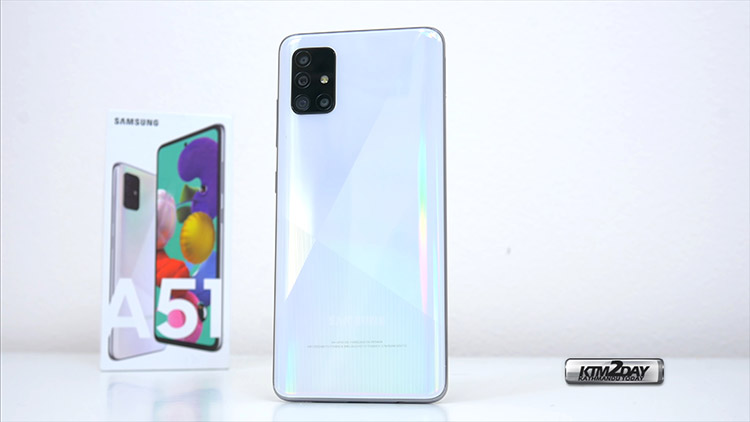 Samsung Galaxy A51 Specifications
6.5 inch Super AMOLED screen with Full HD + resolution and center punch hole
Exynos 9611 processor
6GB of RAM
128GB internal memory, expandable via microSD card upto 512 GB
Four rear cameras: 48MP + 12MP (wide) + 5MP (macro) + 5MP (depth)
32 megapixel front camera
In-display fingerprint reader
4,000mAh battery with 15W fast charging support
Android 10, Samsung OneUI 2.0
Samsung Galaxy A51 Price in Nepal : Rs 41,299 (Price hiked recently)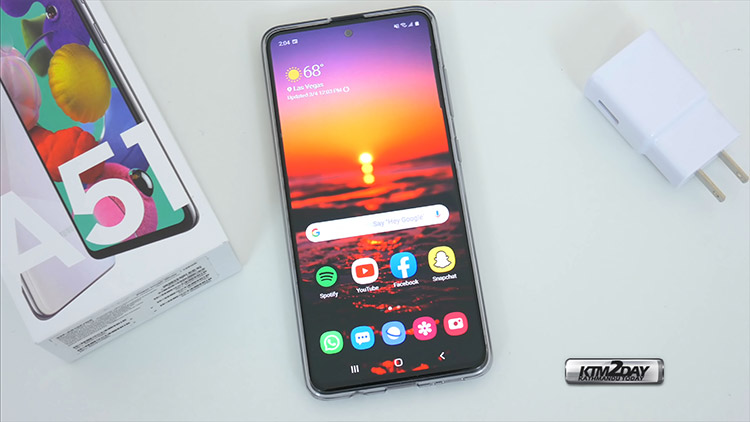 Most people just don't care about having the fastest flagship smartphone because you know they just want something basic. They don't want a million features that brands use as marketing points to sell their $1000 phones. The Galaxy A51 was launched few months back in Nepali market at a price tag of Rs 38,399 in a lone 6 GB RAM and 128 GB variant at Rs 38,399. The price has been now hiked by Rs 2900 and the same phone now costs Rs 41,299.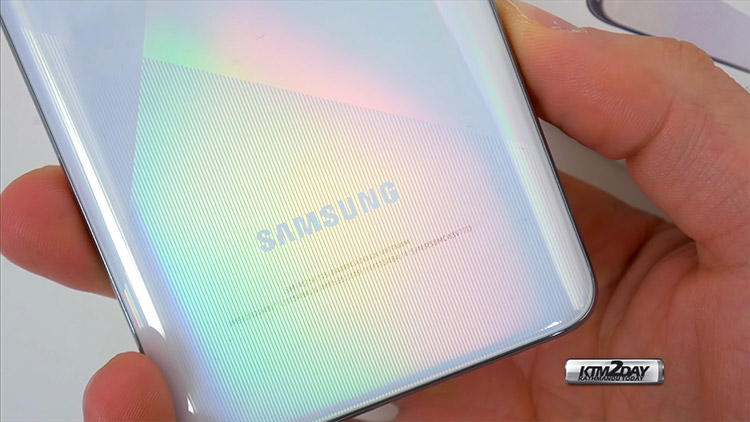 Samsung Galaxy A51 Review : Design and Build
As far as the build quality is concerned, not much has changed compared to the Galaxy A50.
One area that this phone really shines in is its overall design, it's got nice and clean rounded edges and a near bezel-less frame around the display. The back of the phone is very modern with its square camera bump an array of four cameras and I absolutely love the prism black colors that this thing gives off.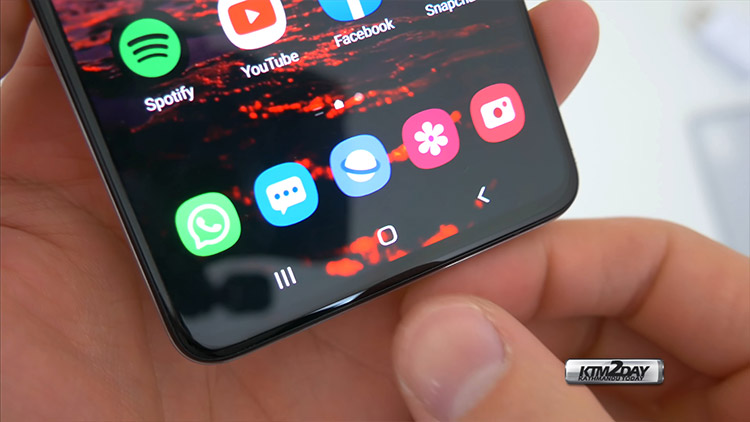 As far as the design is concerned, not much has changed compared to the Galaxy A50 . The Galaxy A51 again has a plastic housing, but this sounds worse than it actually is. The device feels sturdy and because the phone is slightly heavier, you do have the feeling of holding a luxury smartphone.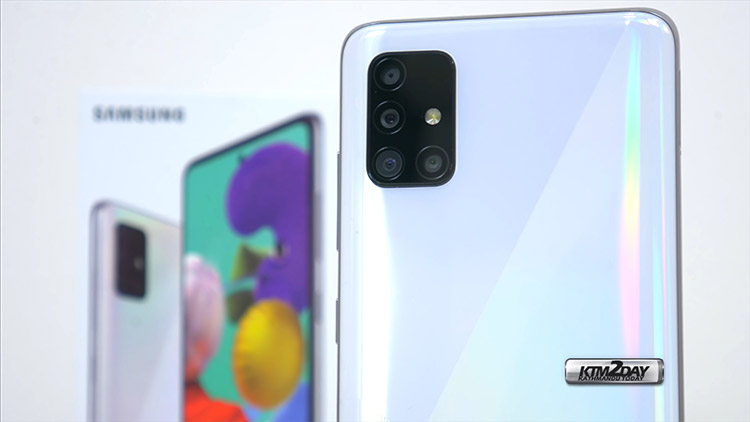 The A51 has what Samsung calls a glasstic back, meaning that the back of the phone is made from a composite material somewhere between glass and plastic, it feels a lot more like plastic than glass though.
The durability of the plastic also seems to hold up well given I've kept it out of its included TPU case for pretty much the whole time that I've had it, and I don't see any scratches whatsoever. On one of the plastic sides of the phone we've got a USB Type-C port for 15 watts of fast charging and thankfully a headphone jack.
There's also a speaker grille down here for the mono speaker, it's pretty darn loud but it doesn't sound the greatest. Samsung seems to have reserved it's much better stereo speakers for their flagship devices like the Note and S-series phones. On the right side of the phone we have a power button and volume rocker and a dual SIM card slot with microSD expansion.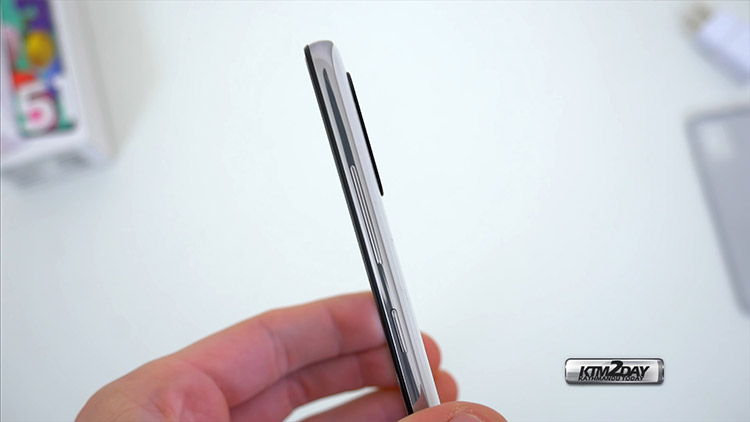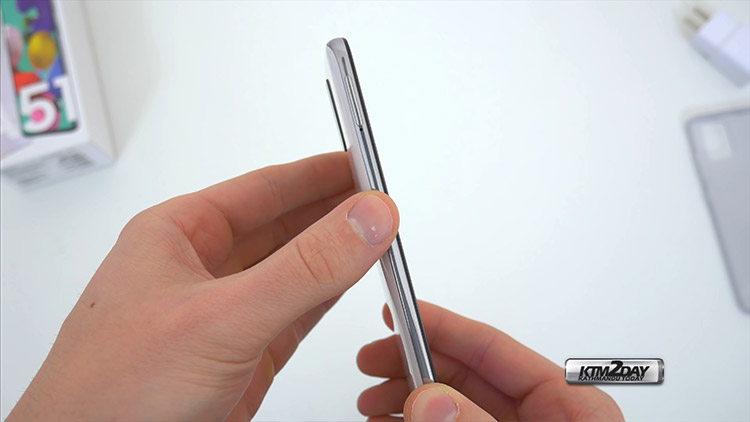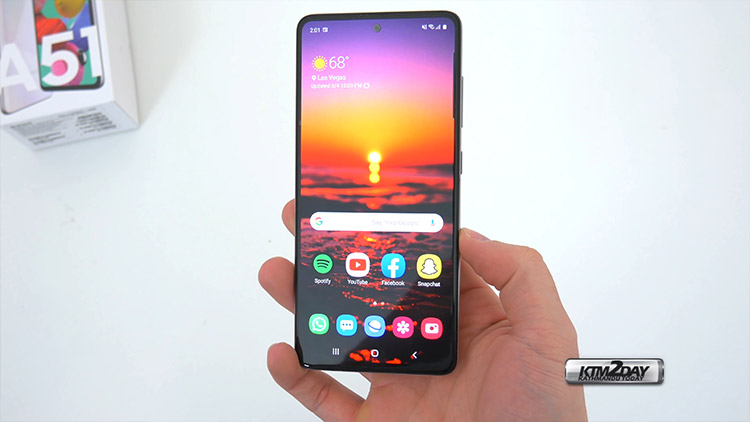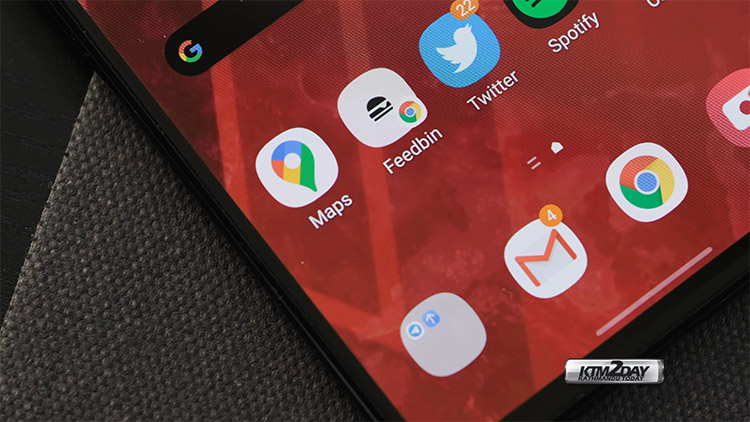 The front of the phone the display looks just as modern, the A51 has a 6.5 inch 1080p display with the Infinity-O cutout for the selfie camera just like every Samsung flagship out there. It's actually a quite a bit smaller of a cutout than the Note 10 which I really like. The other thing I really like is that, the fact that the glass around the edges is flat, no waterfall display here just a clean flat screen. Underneath the bottom half of the display sits a under display fingerprint reader which is a very nice addition at this price point, but does have its own set of issues which we'll talk about in just a bit.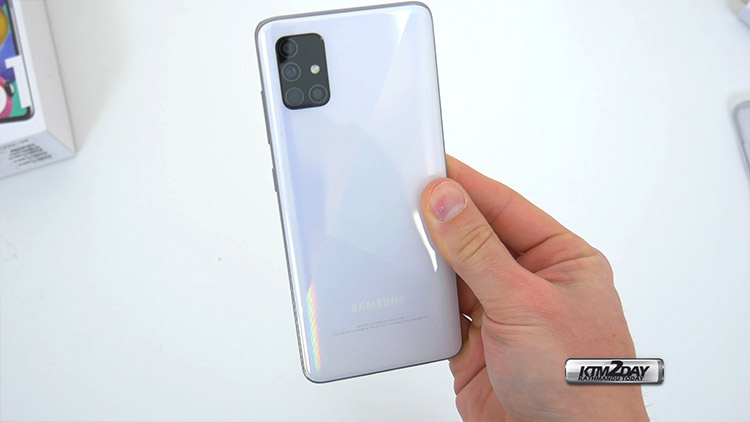 Something that will definitely be an eyesore though, is the amount of fingerprints this device will pick up. After using the phone for some time the rear panel picks up fingerprints like there's no tomorrow. Throwing on the clear-case will help counter this a bit but perhaps choosing a different lighter color back panel color option is recommended if this does bother you.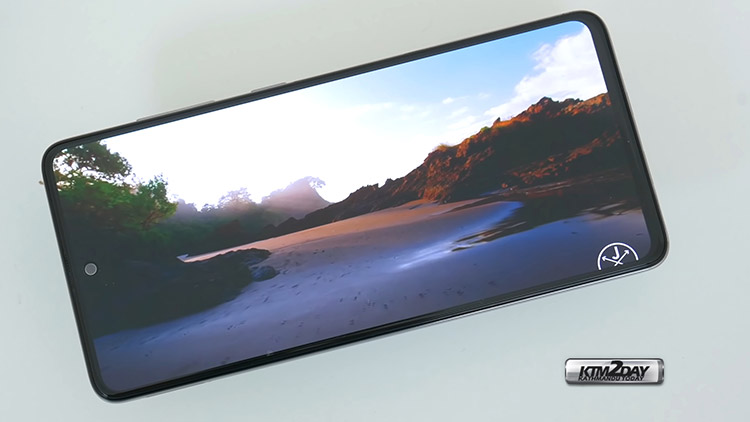 Samsung Galaxy A51 Review : Display
The A51 has a great look and feel and what i mean by that is the phone doesn't feel too big and cumbersome to hold and use while still offering a 6.5 inch screen which is plenty large enough for all of your use cases including content consumption and gaming.
This is an AMOLED panel so not only are the viewing angles great but the phone can seriously save some battery with dark mode.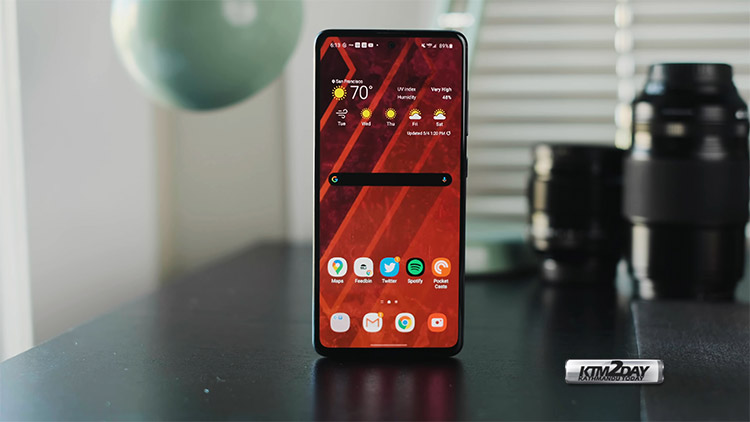 At 6.5 inches with the resolution of 2400 by 1080 pixel, you'll notice this panel is sharp. It's got 405 pixels per inch which reflects very good vibrancy in terms of the colors. The only complaint I have about this panel
is actually the brightness. Still, outdoor visibility is good, and the aspect ratio of 20 by 9 is what I've really found to love for watching movies and videos.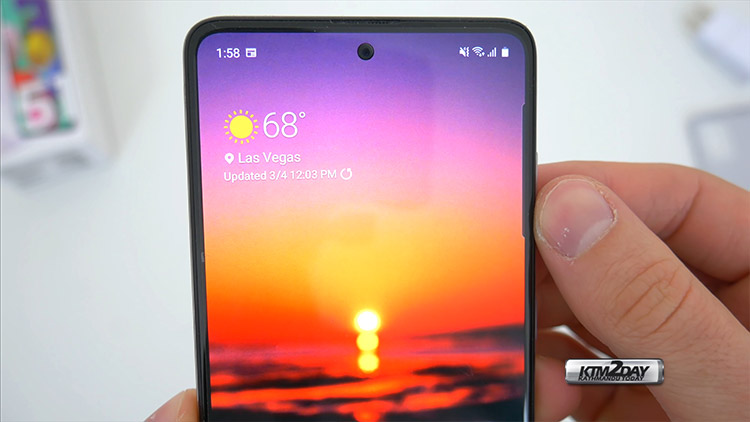 The hole-punch camera cut out as opposed to a notch on the top of phones is a nice trend. It really adds to the device's perceived value making it look a lot more expensive than it is, and I think throughout the course of 2020 we're going to see a lot more phones specifically in the mid-range actually coming out with a hole-punch camera cut out like this.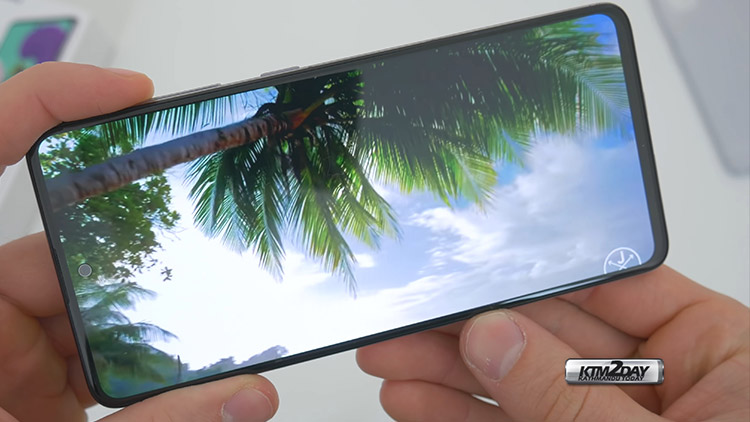 The display in general is one of these strong points of this budget or mid-range phone. It can get nice and bright and it's plenty sharp at 1080p, colours are set to vivid out of the box but I prefer the more accurate and natural look. I have absolutely zero complaints about the display in general, I think Samsung absolutely nailed it on this phone for this price point, it's a great size for watching TV or movies on the go, and the small cutout for the camera is very unobtrusive.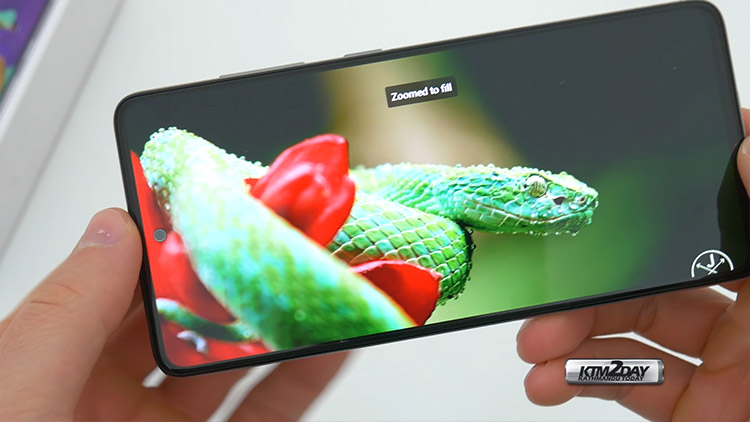 Unfortunately, the A51 comes with Corning Gorilla Glass 3 while you can find Corning Gorilla Glass 5 in devices along the same price category from other manufacturers.
Samsung Galaxy A51 Review : Performance
Alright so you with me so far, it all sounds well and good right ? Well now we've hit the point where I ruin your hopes and dreams of finding the perfect phone because this phone – it's not perfect.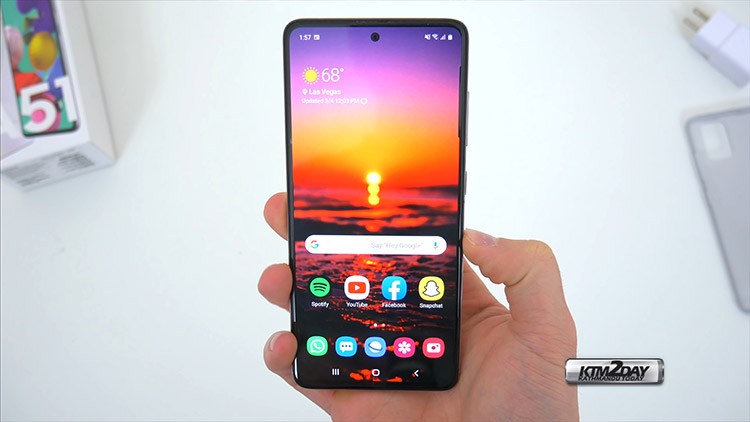 The biggest area where this phone fails is one of areas that I consider to be the most important – i.e, the overall performance and speed of the phone. The A51 runs on Exynos 9611 and 4 GB of ram and if those numbers don't mean anything to you, don't worry because they don't mean much to me either. But they roughly equate to the performance of a Samsung Galaxy S7 which is a 4-year old phone, and to be completely honest with you guys because that's what I'm here to do to give you my honest opinion – It feels like an older Android phone.
For the first couple of weeks everything was just fine. There are a few little hiccups and glitches here and there, but it didn't feel all that slow, and then I put it down for a couple of days to test out other phones and when I came back to it the difference was all evident.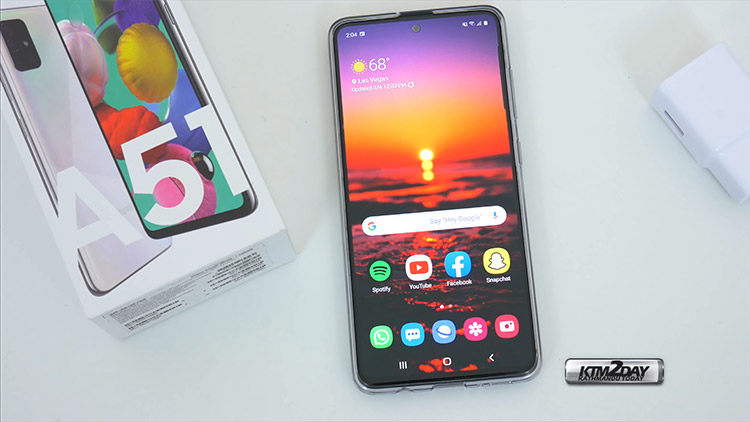 The A51's Samsung's new Exynos 9611 chipset CPU wise is equivalent to the Snapdragon 660, but does worse in GPU tests. Actually, the A51 performance scores are lower than the majority of it's competitors phones.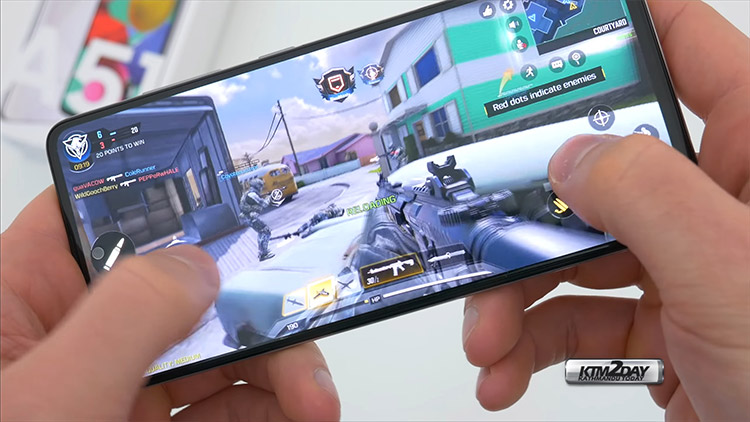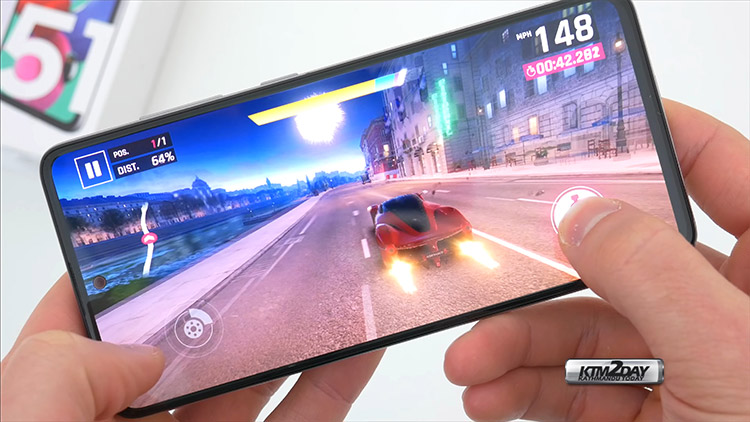 It won't let you down with everyday tasks but I wouldn't choose this phone if I were planning to do some heavy gaming.
In my nearly 2 months of usage, I can tell you that this phone definitely takes a split second longer on occasion to open up applications here and there when compared side-by-side with devices found at similar price range.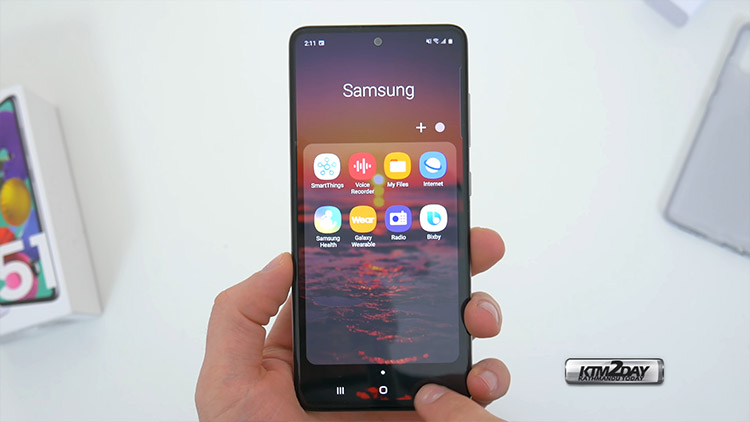 Because from that point to now it slowed down a lot, in the menus and what not. It was fine but when you start switching apps and multitasking a little, the A51 just bogs down and it becomes a bit of a mess. I can deal with the odd hiccup here and there, but when the camera refuses to open for several seconds after I hit the camera app and I miss the crucial moment that I was trying to capture quickly, it's just frustrating. Performance is just not that great and that's something you'll have to live with if you buy this phone.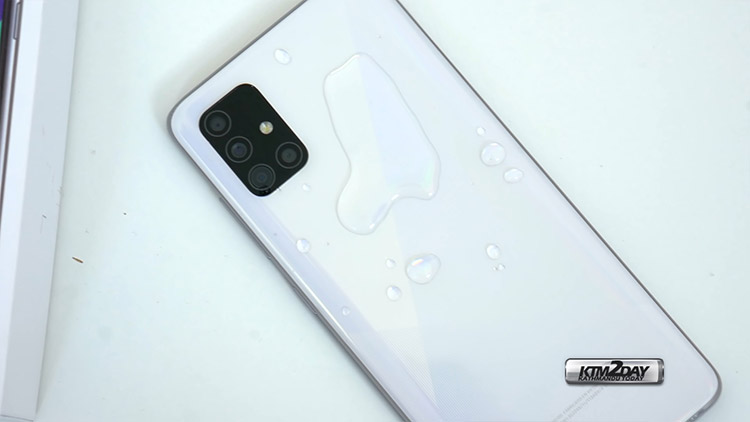 Many others including myself agree that wireless charging on a device like this would be great to see but some
other things you also won't see here on the A51 is a lack of certifications like water and dust resistance. These are some of the things that give consumers peace of mind more than anything knowing that their expensive device can handle an accident or the unexpected but these are just some of the ways Samsung is able to
reduce the cost and make the A51 such an affordable device.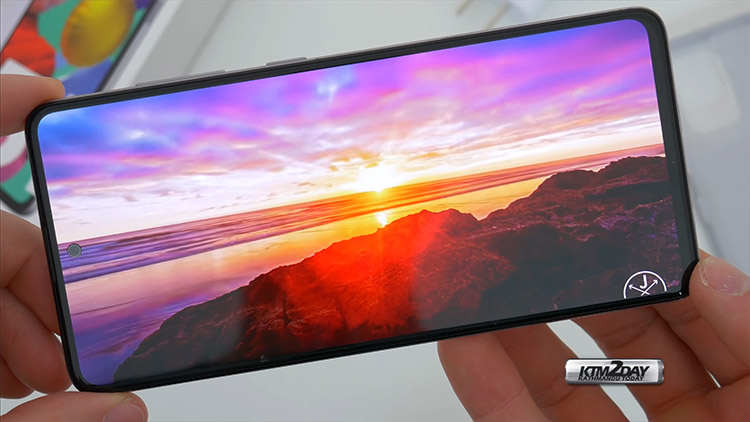 Dolby Atmos is back at it again on this phone, this setting can be enabled when headphones are plugged in
and what it does is tune up the DAC's performance to output a better listening experience.
If face recognition is still your preference, Samsung has got this authentication method really figured
out. It's fast and the camera won't be fooled.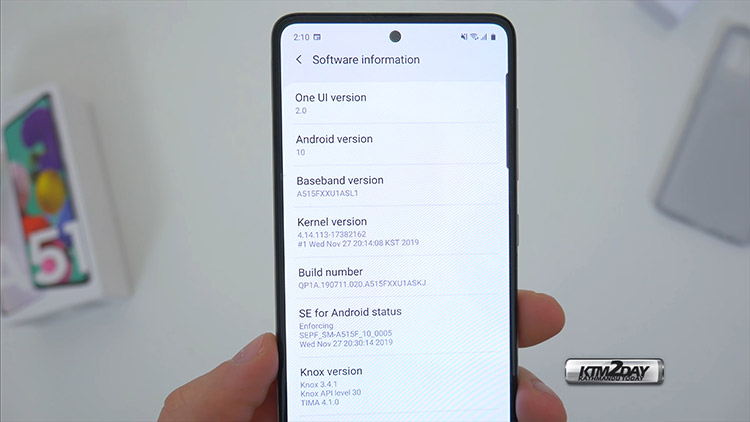 A nice thing about the Samsung Galaxy A51 is that the smartphone runs on Android 10 as standard . This gives you immediate access to all new features, such as a system-wide dark mode and options to protect your privacy.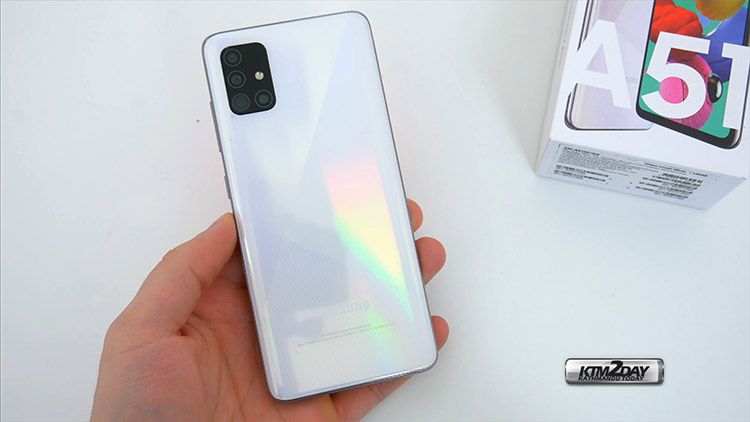 Samsung Galaxy A51 Review : Cameras
Another very strong point for this phone is actually the camera system, this is one I really didn't expect. I fully expect if the cameras on this thing to be trash – but they just aren't. In fact, the A51 has one of the best set of cameras I've ever seen on a phone that's this cheap, at least for photography. The array on the back has four components – an ultra-wide, a standard and a macro lens as well as a time-of-flight sensor.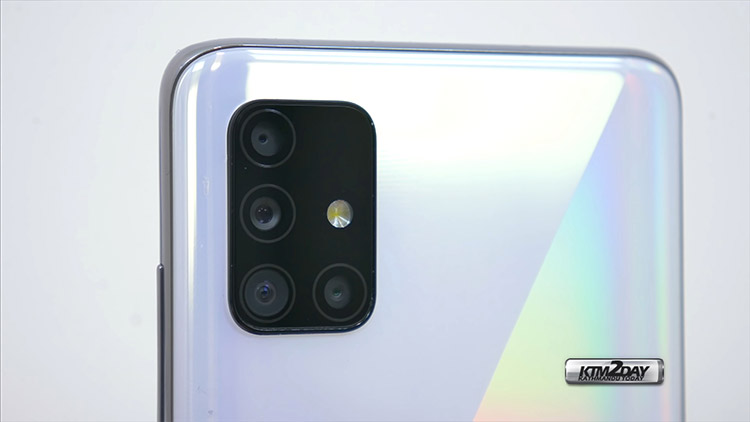 With the Samsung Galaxy A51, you are getting a quad camera setup with a 48 Megapixel Quad-Bayer main camera, a 12 Megapixel ultrawide angle camera for those great wide photos. And then we have another 5 Megapixel depth sensing camera to make it possible to take live focus portrait mode photos and by the way you can do portrait mode with front facing camera as well. And this is pretty much unexpected, we are also getting a 5 Megapixel macro camera. So this is the first Galaxy A-Series phone that i have used that has a macro camera.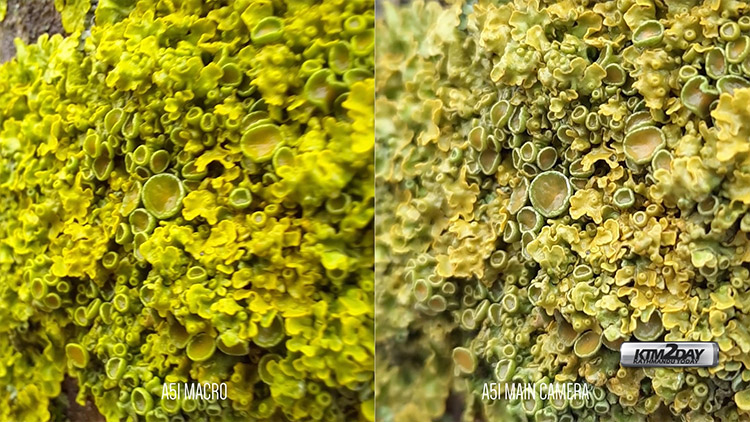 As usual, for Samsung you're going to see a lot of vivid colors and some pretty decent dynamic range but I'm sure you will notice a distinct lack of fine details when you zoom in. These are great photos to post on instagram but maybe not for printing and mounting on your wall.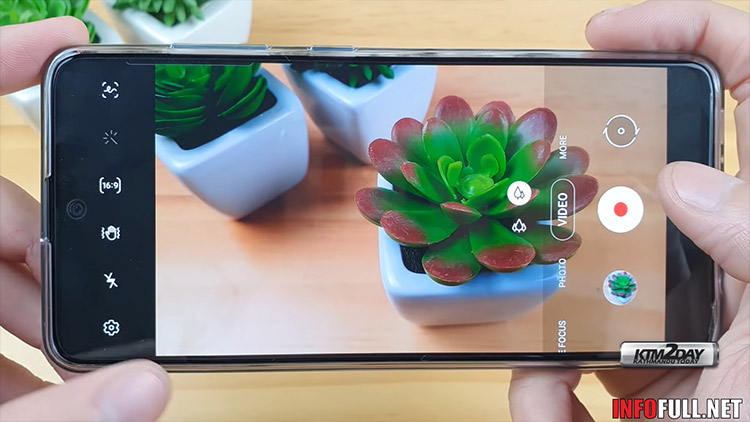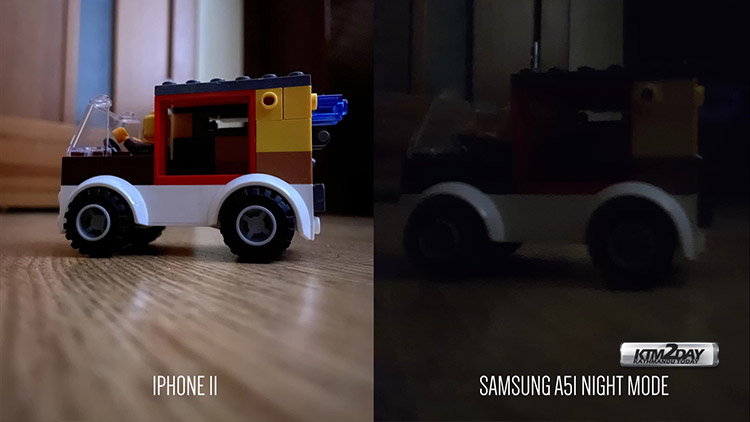 Unfortunately, even the decently wide f/2.0 aperture doesn't help the A51's main camera much in low-light. Colors tend to look a little washed out and details get smeared into oblivion.Meanwhile, the 12 megapixel ultra wide camera turned out to be kind of a pleasant surprise, it captures a 123 degree field-of-view with minimal barrel distortion around the edges, and its colors are somehow even poppier and more saturated than what you see from the main camera.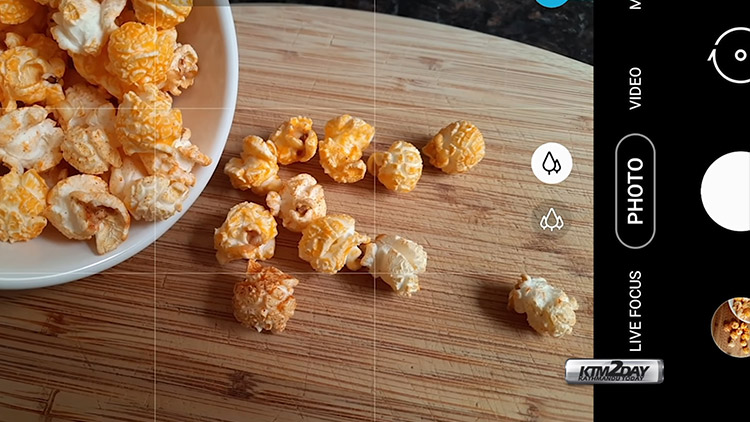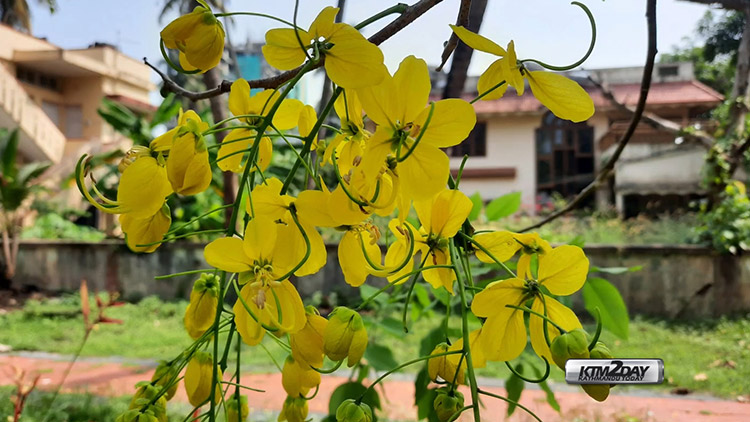 If you're walking around outside and taking photos, expect those pale blue skies to look a lot more neon than they do in real life, since this camera is mainly meant to capture lots of attractive well-lit spaces, it's perhaps no surprise that it struggles more than the main camera does in low-light. The colors are maybe a little better but it's not great overall.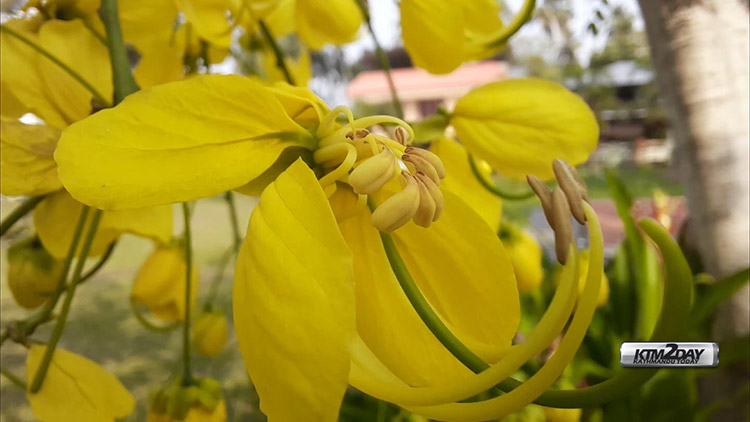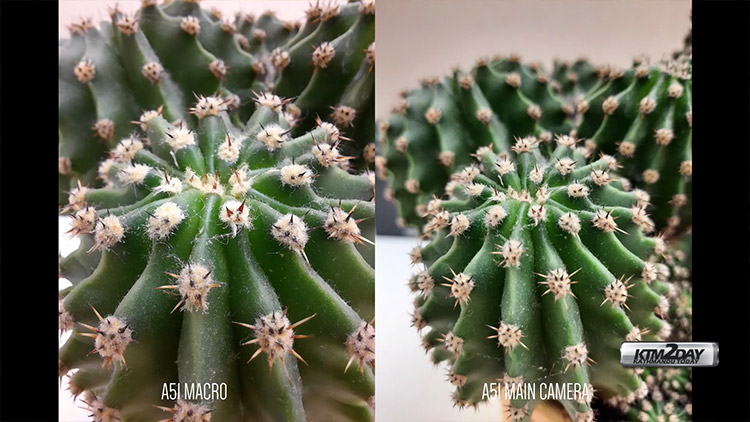 Instead of a telephoto camera, the A51 third rear camera is a 5 megapixel affair for macro shots which is great if
you're one of those people who likes walking aorund and taking pictures of coins and flowers. It's too bad though, that this sensor never really gave me the kind of crisp, super-tight images I had hoped for. I think that's partially because the camera's image processing tends to iron out some of those finer details, but you also have to hold the phone really still to get any macro shots worth keeping.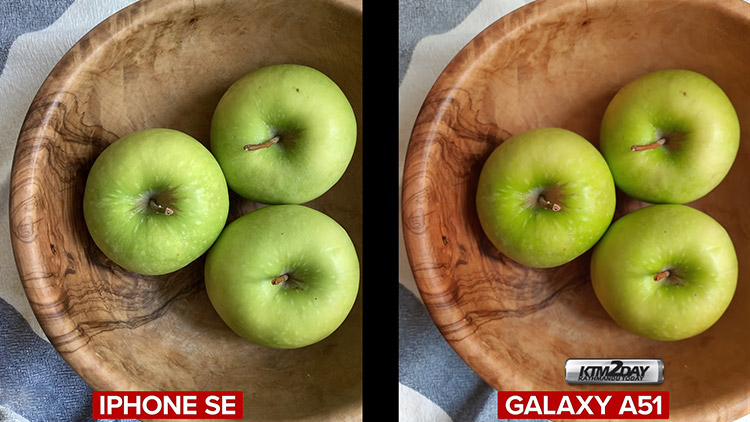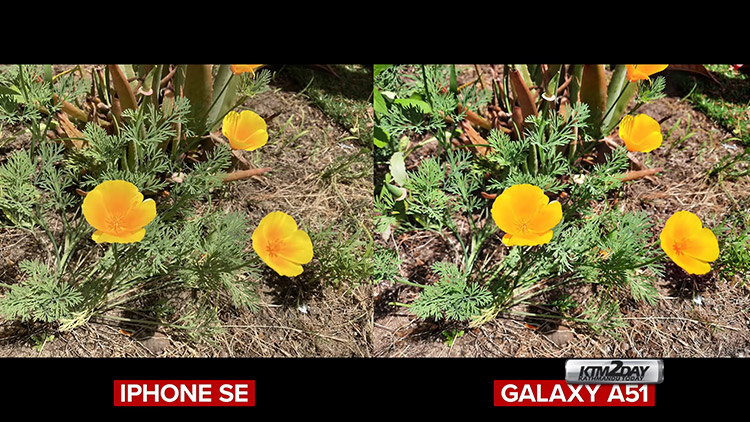 And that last lens, is basically just a 5 megapixel depth sensor that Samsung uses for help with its portraits and there's not a whole lot to say. It does its job pretty well, I've seen more than a few phones struggled to accurately separate the subject from its background and the A51 handles the tasks without too much fuss at all.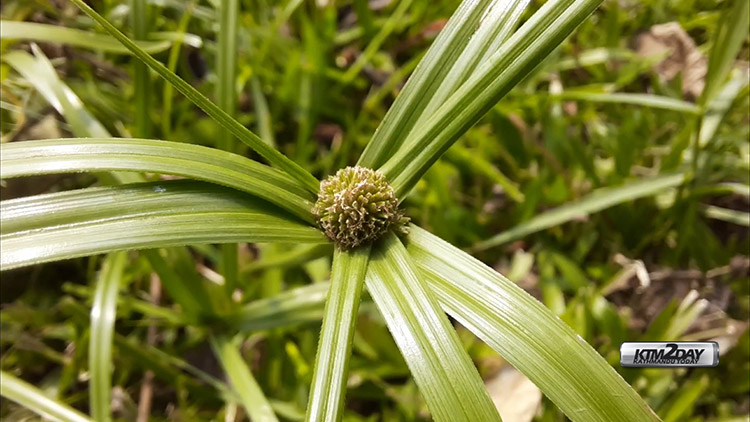 No matter, which camera you spend the most time with, just be prepared for good but not great results. If getting the best all-around photos is your biggest concern then you're much better off going with some other phones.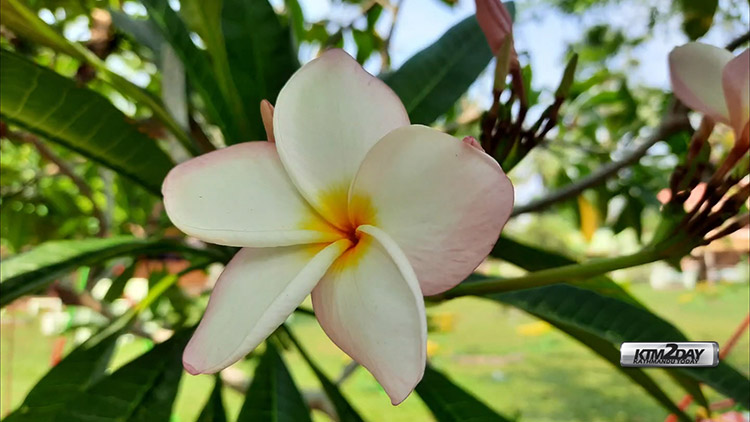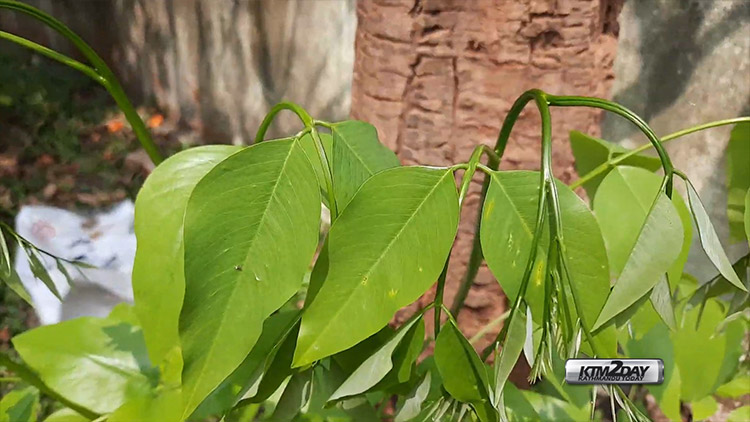 Photos for the most part come out nice and clean and the addition of a time-of-flight sensor makes it very easy to take photos with a natural background blur around subjects. Generally the colors looked great, but I found they tend to look a little bit desaturated.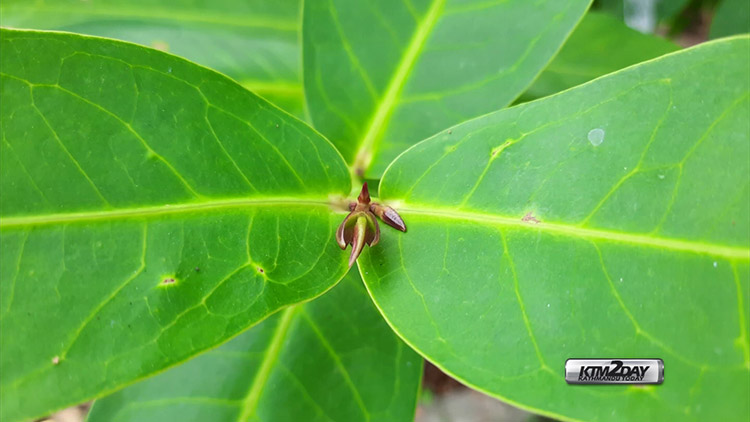 The macro camera is pretty cool too, I'm not used to being able to get really up and close and personal with subjects and it creates a cool perspective for certain shots. The selfie camera isn't the best I've seen but it's also definitely not the worst and can do very well in most circumstances.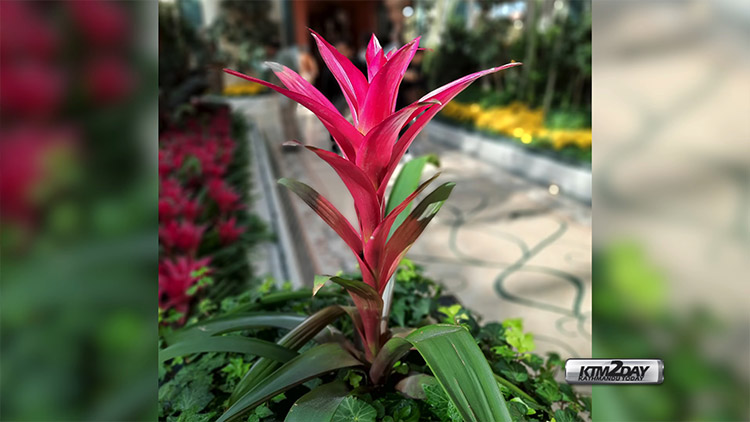 The video on this phone is where the camera system starts to fall apart, and the price of this phone becomes much more apparent. While the ultra wide standard and selfie cameras can all shoot 4k at 30fps, video stabilization is not supported in 4k and I found that the camera hunted for focus a lot. The video footage just isn't the cleanest either, it's no iPhone 11 or Samsung S20, but again that can be forgiving – this isn't a flagship phone after all. Ultimately it comes down to your smartphone photography needs.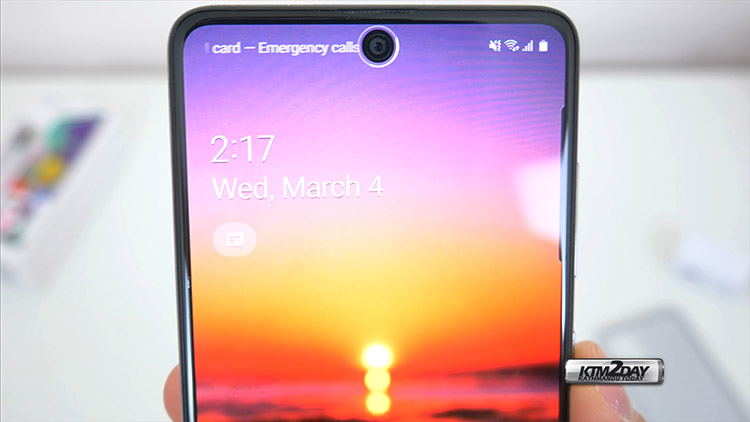 The front camera by the way is pretty good overall, it's kind of strange however, that the image processing detects your skin and smoothens it out and then over sharpens your eyes and your hair.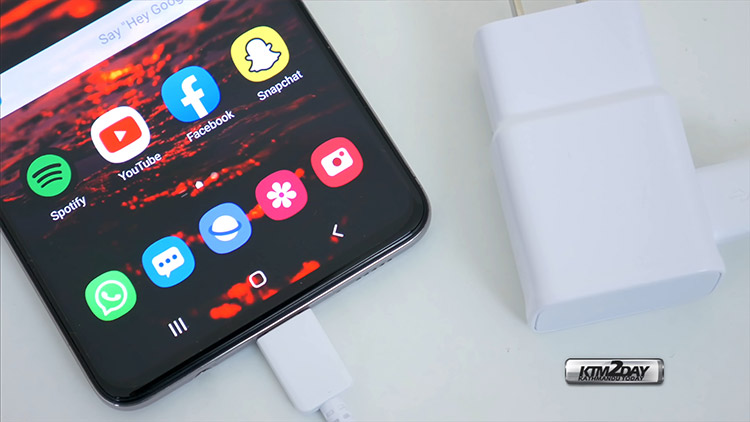 Samsung Galaxy A51 Review : Battery
It does have any saving grace though, another card up its proverbial sleeve if you will, because this has a 1080p display and a low-power Exynos chip, battery life is great with the included 4000 mAh battery inside. It wouldn't be unreasonable to say, that you could even get a full two days out of this phone if you're not using it all the time. It does suffer from some battery drain on standby though, i noticed that it was losing about 1-2 percent every hour every time the phone was just sitting there idly.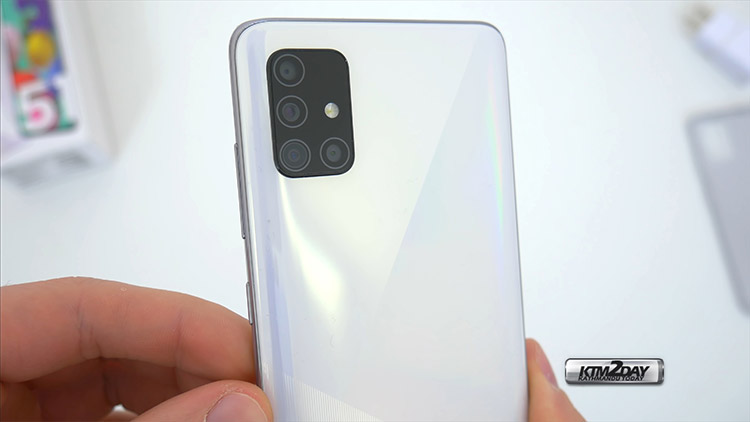 The phone's battery life is definitely going to last you all day long. I personally get a day and half, that's with Wi-Fi  and cellular data turned on all the time and with my brightness turned up to 80%. The battery efficiency of these Galaxy A-Series devices have been impressive that's an important indication when looking at the
potential longevity of a handset like this.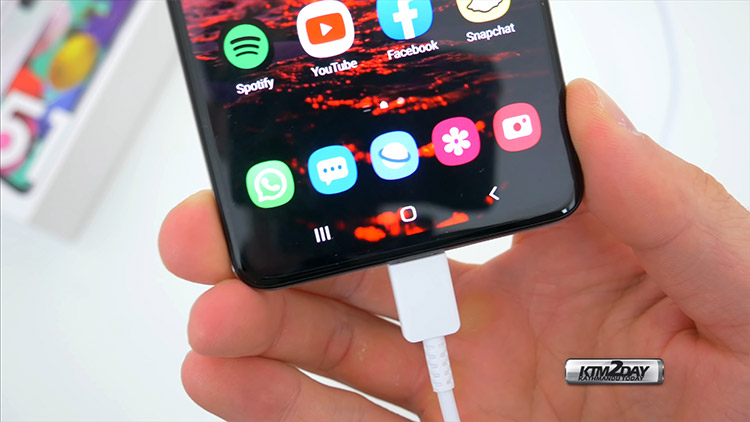 Powering this phone is a pretty respectable 4,000 mAh battery, which I found to be really solid in day to day
use. I end most days with 30% left or more and while it isn't the crazy powerhouse as the M30, I don't have
any complaints. The only gripe I have is Samsung's decision to stick with 15 watt fast-charging support rather than going with a 25 watt standard. I can of course still get a few hours of use from 30 minutes or so on the charger which is great and I guess Samsung just needed one more thing to differentiate this device from the higher-end A71.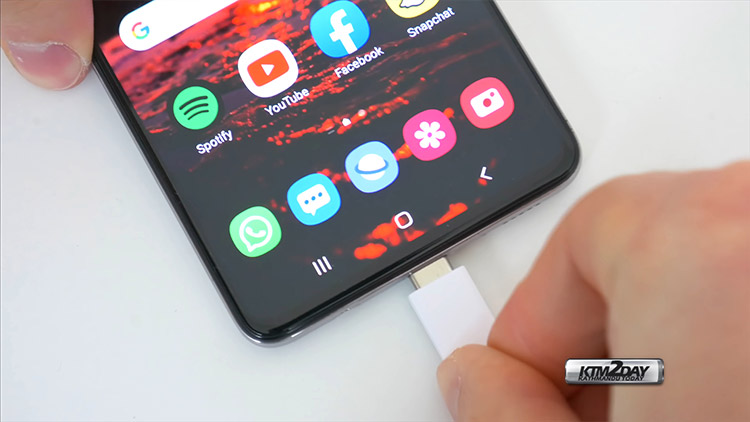 Charging from 0 to 100 percent takes about two hours. After half an hour of charging, the battery is about 35 percent full and although you can use it for a while, charging does not go very smoothly.
The A51 scored an endurance rating of 86 hours in our battery tests, which is not bad but less than last year's A50 model. And nothing special for a mid-ranger these days.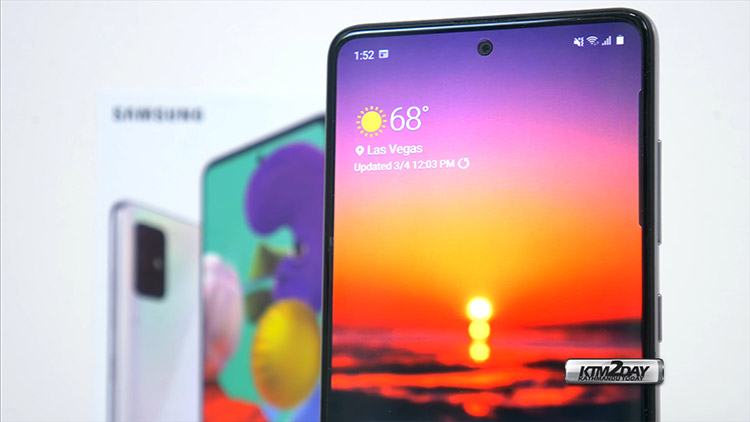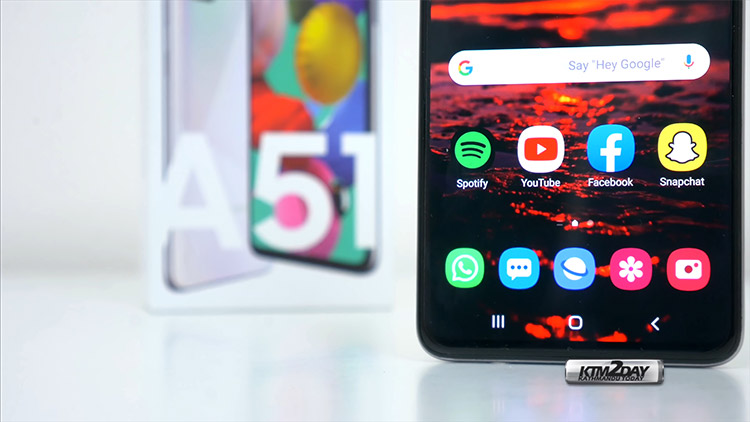 Samsung Galaxy A51 Review : Verdict
Previously, i mentioned to get back to the fingerprint reader so here we are. It's cool technology and I really like that Samsung is trickling down that display tech to their more budget-friendly phones, but to be honest with you I wish they hadn't put it on the A51. Yeah, it's clear but a rear-mounted physical fingerprint reader is a tried-and-true piece of tech and it's way faster and more accurate.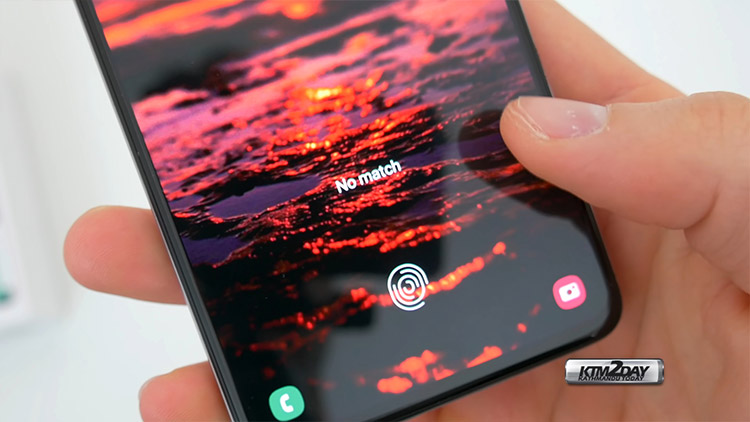 The under display fingerprint reader on the A51 is just too slow and too inaccurate for my liking. If I had to guess a success to failure rate, it would probably be in the ballpark of like 75 to 80%. As in this phone, it only accurately reads my fingerprint three-quarters of the time. And I removed my fingerprint and re-registered it several times, it just doesn't like my thumbs.
One last gripe I've had with this phone is with the vibration motors, I'm not sure if it's because the phone is more plastic than metal and it makes a rattle or something, but this thing makes more noise when it vibrates than it should. In fact I'm more likely to hear the vibration than feel it, and I don't like that at all.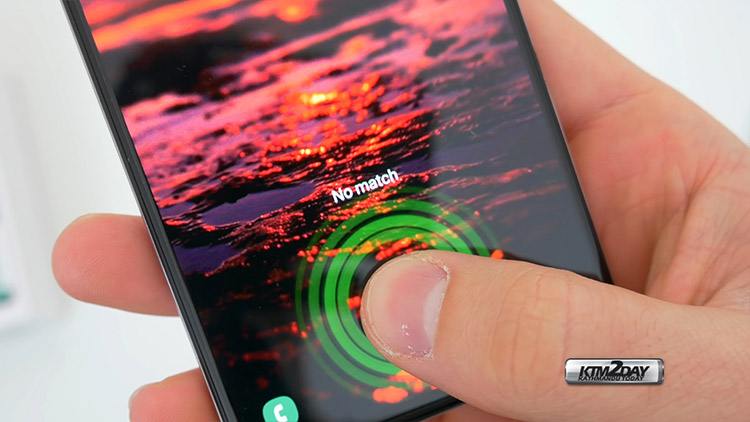 Ok ! So final thoughts, I know I sound like I'm ragging on this phone a lot but it's because I have to. I can't let you guys go out and spend your hard-earned cash on this phone and not tell you about all the things that you'll encounter when you actually own it yourself, whether they be good things or bad things. I want to prepare you for what you're getting into, the A51 is a budget-friendly phone that's got a very modern design, a great display and an excellent set of cameras. But it falls behind with it's slow performance and even slower feeling fingerprint reader.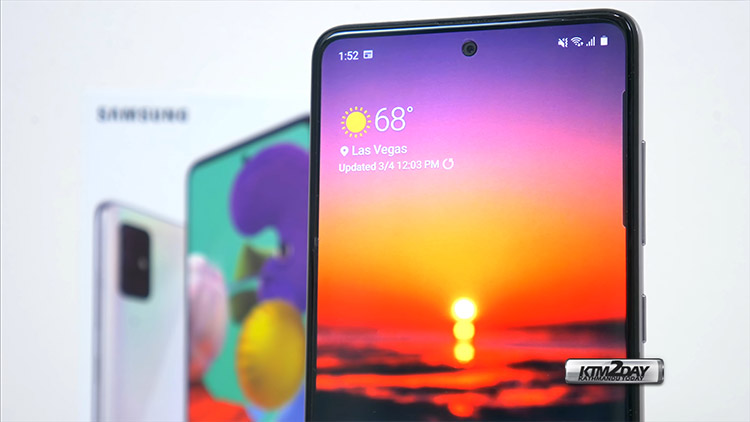 For around Rs 41,299, it's a phone to consider but unless you're more of a casual phone user. Instead, save your money for a more expensive device that will annoy you a lot less actually. Xiaomi's Mi Note 10 Lite launched recently at Rs 44,999 could be a lot better option at few extra money which comes with powerful Snapdragon 730G processor, 64 MP quad setup camera and a bigger battery.
If you are interested then do check out full review of the Xiaomi Mi Note 10 Lite in our other post featured here.