Smartphone import declines, sales figure shrinks in Nepali market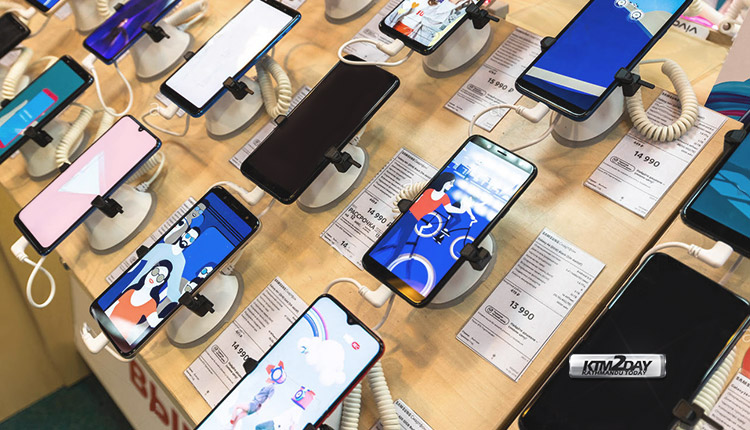 Smartphone imports to Nepal declined in the month of Falgun, while trade slowed down in Chaitra. The inability of manufacturing companies to send enough smartphones to the market has had an impact on the market.
Traders have said that the direct impact of the corona pandemic has been on the production of smartphone chips and the decline in the production of smartphones.
'Short-supply is the main reason for the declining import of smartphones. Companies have not been able to send the required number of smartphones to the market due to untimely production of equipment required for phone production, "said Deepak Malhotra, chairman of the Mobile Phone Importers Association and IMS Group.
He said that the models sought earlier were easily found in the market but now the shortage is increasing. "Traders are saying that the business of mobile phones has been sluggish since Chaitra," he told . He said that the demand for smartphones has decreased in the last few months as the number of educational institutions and offices started operating in physical presence rather than online. The market has also been sluggish because most of the consumers may have already upgraded to a new device.
The country imported 7,40,000 mobile phones worth Rs 3.43 billion in January, but declined in February. According to the latest statistics of the customs department, about 76,000 less smartphones have been imported in February.
According to the department, 624,579 smartphones worth Rs 2.23 billion were imported in February. The government has collected more than Rs 350 million in customs revenue from mobile phones imported in Falgun.
According to Malhotra, the price has not gone up even though the phone production has been reduced. As the border with India eased, the gray market began to shrink. He said that the number of Chinese smartphones entering the country illegally is increasing. However, as the prices of Samsung's smartphones remain the same in India and Nepal, a small amount is now being smuggled in, he said.
After the share market, real estate transactions and other business sectors started to return to normalcy, consumers were hooked on smartphones costing more than Rs 20,000 in the nepali market. However, in Falgun, there has been a break in this trend and the market has been sluggish since.
In the first eight months of the current fiscal year, a total of 5 million smartphones worth Rs 26.31 billion have been imported to Nepal, according to the department. From which the government has collected more than 4 billion rupees in customs.