Tata launches Xenon CC 4×4 Pick-up in Nepali market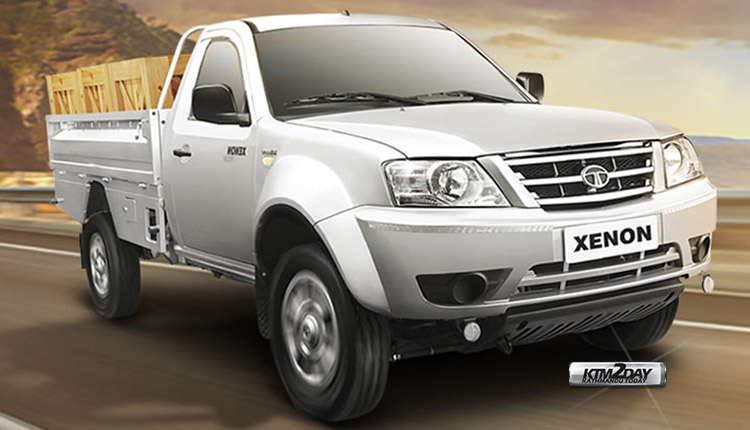 Tata Motors has launched the Tata Xenon CC 4×4 Pick-up (BS-III) in the Nepali market, with best-in-class looks, operating economics and fuel efficiency. It is suitable for a wide range of commercial applications, and will be available in both single cab and dual cab versions.
The new Tata Xenon Pick-up has an imposing stance. Distinct flared wheel arches, European styling, chrome-plated grille and sporty body coloured bumpers, lends to its aggressive looks.
The neatly laid out interiors provide for optimal space and functionality, along with a pleasant feel. The vehicle is powered by a new generation 2.2L VTT DiCOR (Variable Turbine Technology, Direct Injection Common Rail) engine that is controlled by a 32-bit electronic control unit and incorporates state-of-the-art technology.
The new engine delivers a peak power of 140 Hp @ 4000 rpm and peak torque of 320 Nm over a wide rpm range of 1700 to 2700, being the highest in Nepal pick-up market.
The Tata Xenon CC 4×4 also comes equipped with power steering, adjustable steering column, and cushioned bucket seats in the front with adjustable lumbar support.
It is available at all Tata Motors-Sipradi dealerships across Nepal in the following two variants, that are Xenon CC 4×4 – Base model priced at Rs 29.20 lakhs and Xenon CC 4×4 – Fully-loaded at Rs 32.50 lakhs.
2022 Price
Tata Xenon 2.2l 4WD With Air bag & Ac
Tata Xenon Specification
Steering – Power Steering
Gearbox – GBS-76-5
Torque – 320 NM
Tyre Size – 235/70
Body Dimension – 4.8 Ft.- 4.7 Ft (LXB)
Wheel Base – 3150 mm
Gradeability – 80 %
Max Speed – 160
Turning Circle Diameter – 6 m
Fuel Tank Size – 70 ltr
Ground Clearance – 210mm
Clutch Size – 260 mm
Front: Double wishbone
Back: Parabolic leaf spring
Front: Disc brake with twin pot caliper
Back: Drum brake with auto adjuster
Rs. 44,70,000