TP-Link launches Archer BE900 Wi-Fi router with Wi-Fi 7 support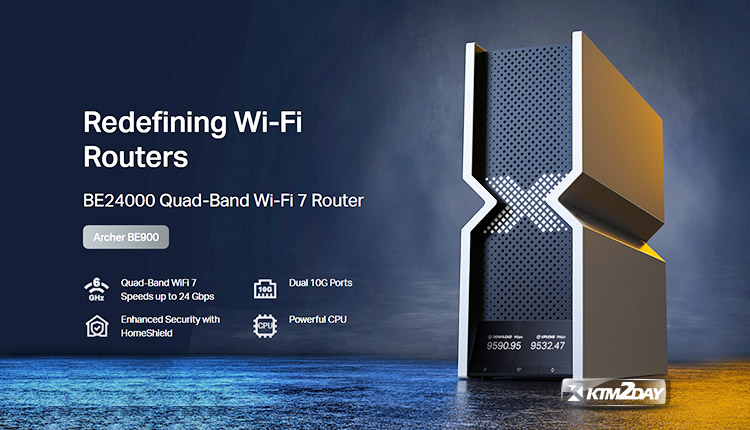 TP-Link announces a new router that supports the fastest Wi-Fi 7 wireless technology. It is a quad-band router of the BE24000 class, therefore it boasts transfer speeds of up to 24 Gbps, or 3 GB/s. The router comes with two of the ports that can handle data at 10Gbps.
TP-Link has released a new router that complies with the recently released Wi-Fi 7 specification.
It is the Archer BE900 model, and it is a quad-band router of the BE24000 class. The overall transfer rate is consequently 24 Gbps (3 GB/s), however this pertains to the theoretical case of utilizing all bands to the maximum at once.
On the 2.4GHz band it promises 1376 Mbps, then there are two 5GHz bands, each offering 5760 Mbps and finally we have the 6GHz band with 11520 Mbps.
Now, one device may connect to both of these frequencies at once thanks to Multi-Link Operation (MLO) and wider channel support (320 MHz against 160 MHz for Wi-Fi 6E). The router has a touchscreen display and 12 antennas.
But the router's list of features does not end there. Due to the normal LAN ports being fixed at 2.5Gbps, it only has a single Gbps port. There are 4 such ports.
There is also one 10Gbps SFP+/RJ45 Combo WAN/LAN port and one 10Gbps WAN/LAN. One USB Type-A (2.0) port and one Type-A (3.0) port are also included.
Private networks for Internet of Things devices are supported, along with OpenVPN protocol and compatibility with EasyMesh routers.
Pre-orders for this router, which will retail for $700.00 when it officially launches on December 31st, can be placed now.
The BE550 will top out at 9.3 Gbps and lack 10Gbps ports, while the BE800 will top out at 19 Gbps (both with and without the touch screen).