Xiaomi Mi 10T Pro with 108MP camera leaks on the web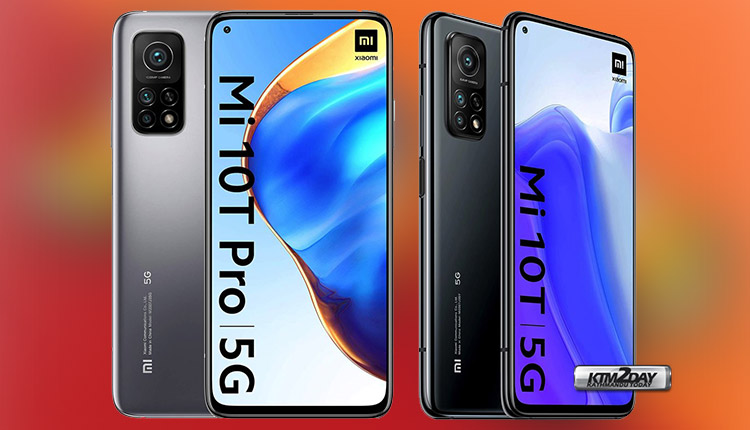 Xiaomi Nepal has already launched the Mi 10 5G model along with Mi 10 Lite from the company's Mi 10 Series.
According to latest leaked information circuclating on the web, images of the Xiaomi Mi 10T Pro and the basic model Mi 10T leaked are making rounds on the web. The premium model Mi 10T Pro confirms the presence of a 108MP rear camera while it's cheaper model, the standard Xiaomi Mi 10T confirmed the presence of a 64MP rear camera, something that had already been mentioned in previous leaks.
As we can see in the images, it is possible to see the inscription "108MP" just below the large camera module on the rear panel of the device. Although the leaked images indicate the presence of four rear cameras, , but the spot for the fourth camera is actually covered up. The spot for sensor on the upper right corner of the square module is still unknown, but it could be a laser autofocus sensor.
The Mi 10T Pro is the most advanced of the duo, as its name suggests. Just like in previous leaks,the Spanish Amazon page shows that mobile phone will have 108 megapixel main camera, 144 Hz screen and 8 GB RAM. Two versions of the phone were cataloged, with storage of 128 GB and 256 GB.
The device is expected to come with fingerprint sensor side-mounted on the power button. The Xiaomi Mi 10T Pro will have 5G connectivity thanks to Qualcomm's chip.
After the images were leaked, both the Xiaomi Mi 10T Pro and Xiaomi Mi 10T appeared quickly on Amazon Spain , indicating that they will even be launched outside of China. The listings for the two models in the store have already been removed.
Xiaomi Mi 10T Pro Price in Nepal
According to the listings in the store, the Xiaomi Mi 10T will come with 6GB of RAM, 128GB of storage capacity, Qualcomm Snapdragon 865 chip and will cost around € 550(NRs 76,600). The listing for the Xiaomi Mi 10T Pro says that the device will come with the same chip and not with the Snapdragon 865 Plus.
About the price, the Pro model should cost around € 640(NRs 89,200) for the model with 8GB of RAM and 128GB of storage capacity. The 256GB storage variant should be between € 25- € 35 more expensive.