Nepal Telecom's new wireless broadband (2 Mbps EV-DO)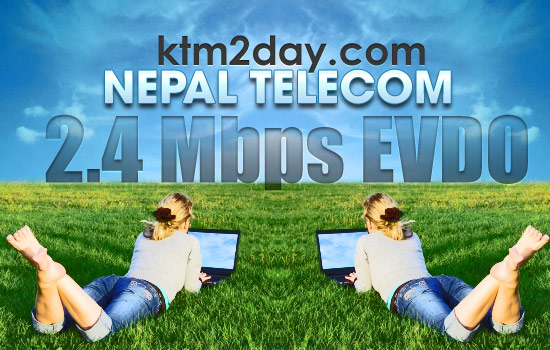 Latest Update : Nepal Telecom has launched this service and is available inside Kathmandu & Pokhara Valley only at the initial phase. The high speed wireless internet has a capacity of speeds equivalent to 2.4 Mbps and is made available on RUIM cards . No voice service is available through this service unlike the previously launched SKY internet.

– Customers have to pay an initial amount of Rs.2500 to acquire this service i.e. RUIM cards.

The above amount includes first time activation charges plus Rs. 2000 worth of data value.

– Customers are charged 25 paise /100 KB  of data usage.

But as a promotional offer until Chaitra this has been further lowered down to a minimal 15 paisa/100 KB.

– Its a Data only service. No Voice.

– Customers are required to purchase compatible EVDO modems(USB based) .

UPDATE : Nepal Telecom has cancelled the launch of '2.4 Mbps EV-DO' mobile internet service. The service will be launched in the near future hopefully by next year or until the NGN upgrade is over. Similarly, increase in ADSL speeds and decrease in tariff rates will be possible after this upgrade.
Nepalese fixed line and mobile incumbent Nepal Telecom (NT) is readying the launch of a new wireless internet service capable of delivering data transfer speeds of up to 2Mbps.
The new service will use the operator's CDMA2000 1xEV-DO network and will be available in Kathmandu Valley in the launch phase.
NT says it is currently using Packet Date Serving Node (PDSN) technology to deliver its 1xEV-DO service, adding that currently more than 10,000 people have subscribed to the service which can be accessed using USB modems.
Nepal Doorsanchar Nigam Limited (Nepal Telecom, or NT) has announced it is upgrading its PSTN to a fibre-optic next generation network (NGN), enabling customers to benefit from an array of advanced high speed data services such as IPTV and broadband internet access. The operator has already completed a feasibility study for the project and will soon launch a public tender for network equipment.
NT director Amar Nath Singh is quoted as saying that his company will 'then begin installation work simultaneously in all 73 districts where the fixed line network has been laid.'NT is currently relying on its PSTN network to provide voice service, but intends to deploy optical fibre cabling to increase bandwidth and reduce the burden on its existing copper wire network. In addition, the telco intends to install new remote switching units to reduce the instances of network congestion. Remote switching units link customers' telephone lines with the service providers' network. The incumbent however, stopped short of providing a deadline for the completion of the upgrade and has yet to finalise any tariffs for the new service.
NT considering 4G rollout
Nepal Telecom (NT) is considering a plan to roll out a so-called 'fourth-generation' (4G) network in the country to provide faster and more readily available seamless access to internet services. The telco is conducting a feasibliity study concerning the initiative with Lok Raj Sharma, the head of NT's IT department, saying: 'We will get a comprehensive report within two months and decide on whether to float a public tender notice and invite interested parties to submit bid documents, or to roll out the next generation network by ourselves.'
Similar Post:
Nepal Telecom ADSL Service
UTL Nepal launches High Speed Internet