Dish Media Network to bring DTH service within 3 months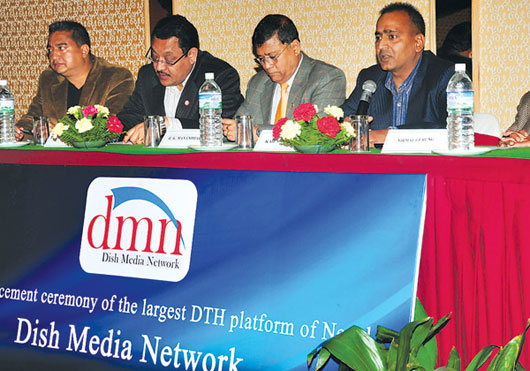 Dish Media Network (DMN) —a new Direct To Home (DTH) platform in Nepal—on Friday announced it would start offering satellite television service digitally to people within two or three months.
Initially, the company plans to transmit 74 national and international channels comprising news, information, sports and entertainment with clean feed and gradually increase the number to over 100 channels.
"Since the technology is wireless, the service can be offered even in isolated areas of the country deprived of cable channels because of geographical disparities," said R. K. Manandhar, president of DMN.
Established by professional media entrepreneurs – R.K. Manandhar, Kailash Sirohiya, Bhaskar Raj Rajkarnikar, Nirmal Gurung and Sanjay Adhikari – DMN has already obtained license from the Ministry of Information and Communications (MoIC) to operate DTH service in Nepal. The company has invested over Rs. 1 billion in the project.
"We will start DTH service within two or three months," Kailash Sirohiya, one of the Board of Directors of DMN told reporters on Friday. "Currently, we are engaged in content securing of channels and transponder leasing process."
According to DMN, the price for subscribing the DTH service will be fixed after analysing the costs being charged by cable television service providers and channels that subscribers want to view through DTH.
"Customers can subscribe the desired channels and view quality content," said Bhaskar Raj Rajkarnikar, a director of DMN. Since the technology is advanced, the service will be dearer than cable channels, he added.
As of now, six firms including DMN have received license from the MoIC to start DTH in Nepal. The ministry has fixed the criteria that potential DTH service operators must have at least 60 channels to get a license. The other five are Satellite Channel, M Vision, Telko Investment, CG Techno Dreams and Tele Direct.
Satellite Channel, which has already announced it will transmit 80 channels, is backed by IME and the Prabhu Group. M Vision belongs to Mercantile Communication, a leading IT enterprise while CG Techno Dreams is being promoted by Chaudhary Group.