Chinese Tourists arrival up in Feb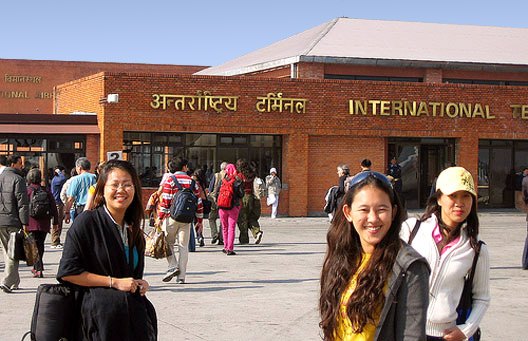 Tourist arrivals via air have been encouraging in the last couple of months — South Asian and Chinese arrivals especially posted robust growth.
Figures released by Immigration Office, Tribhuvan International Airport (TIA), reveal that visitor arrivals in February — compared to the same month last year — increased by 33 per cent to 33,492.
The entire South Asian region posted overall positive growth of 12.1 per cent, with arrivals from India growing by 1.8 per cent, Bangladesh by 110.2 per cent, Pakistan by one per cent and Sri Lanka by 11.6 per cent.
China, one of the largest source markets for Nepal, bounced back with a remarkable growth of 242.5 per cent. Similarly, other Asian countries maintained upward trend with Japan by 31.7 per cent increase, Malaysia by 38.9 per cent, Singapore by 55.9 per cent and South Korea by 21.6 per cent.
However, arrivals from Thailand witnessed negative growth by 54.7 per cent. In aggregate, the Asian segment registered a robust growth of 69.5 per cent.
An overall growth of 20.6 per cent was observed from European markets with arrivals from major markets such as the UK, France, Germany, Italy, and the Netherlands up by 1.8 per cent, 46.8 per cent, 12.4 per cent, 44 per cent and 87.5 per cent, respectively. However, Norway, Spain, Russia and Switzerland registered decrease in arrival figures by 41.8 per cent, 22 per cent, 10.4 per cent and 2.4 per cent, respectively.
The figures also show an increasing trend in visitors' arrival from the United States of America with a notable growth of 53.2 per cent, said Nepal tourism Board (NTB).
Canada, Australia and New Zealand also maintained positive growth with 20.5 per cent, 26.9 per cent and 246.6 per cent, respectively.
This is the ninth consecutive month that Nepal has witnessed growth in the international tourist arrivals and this confirms the improved prospects for Nepal in the year 2010 with rising business and consumer confidence. A total of 33,441 foreign tourists departed via TIA in February 2010. The number of Nepali arrivals stood at 49,288 while 54,564 Nepalis departed via TIA in February.
(Source: THT)