Fishtail Air to introduce alpine resue team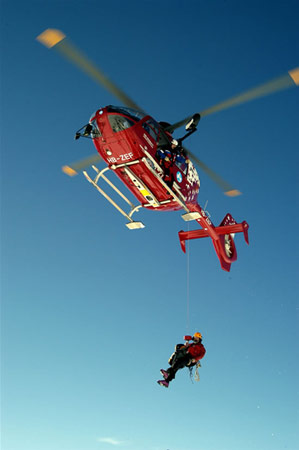 Fishtail Air Pvt. Ltd. will introduce an advanced alpine rescue system in Nepal's Himalayan region.
The helicopter company has joined hands with Air Zermatt, a helicopter service based in Switzerland, to introduce this service, said Suman Pandey, Chief Executive Officer (CEO) of Fishtail Air.
Air Zermatt has pioneered mountain rescue and flight operations in the Swiss Alps.
According to Pandey, the Swiss company is now helping develop and establish an alpine rescue system in Nepal through transfer of technology in partnership with Fishtail Air.
In March this year, Air Zermatt organized a week-long observation training programme on the Alpine Rescue Operation in the Swiss Alps for a five-member Nepali team.
Pilots and rescue specialists from Fishtail Air are scheduled to leave for Switzerland to undergo additional training in the alpine rescue operations.
Fishtail Air also plans to extend its alpine rescue operations in India, Bhutan and Tibet after its members are fully trained, Pandey said.
Fishtail Air has also introduced ambulance facilities in its helicopters.
The air ambulance has medical facilities and equipments supplied by Air Zermatt which can be fitted in minutes.
Both the helicopter companies hope to carry out difficult rescue and evacuations with its flight medical services in future.