Lord Shiva's massive statue unveiled in Bhaktapur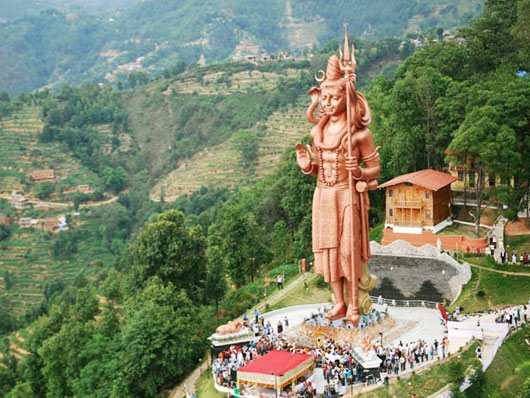 Tourism and Civil Aviation Minister Sharat Singh Bhandari on Monday unveiled a 143-ft. tall statue of Lord Shiva at Chitapol VDC- 5 in Bhaktapur district.
The event also included life-instilling (praan pratisthapan) ceremony of the Kailashnath Mahadev into the object of art by the Shankaracharya from Badaridhaam in India.
"I hope this site will play a pivotal role in attracting visitors to Nepal during the Tourism Year 2011," said Bhandari. The site named Kailashpuri is spread over 75 ropanis of land and has an Ayurved hospital with yoga, meditation and acupressure facilities.
Businessman Kamal Jain, who has borne the entire cost of the construction, said it took him almost six years to build it. The statue is said to be coated with zinc so as to protect it from sunlight and rain. "I hope this statue will be a centre of faith for the Hindus, and a factor to promote the tourism year," said Jain. The site opened for visitors from Monday saw the turnout of hundreds of thousands of them. Jain said visitors will have to pay an entry fee which will cover the maintenance expenses of the site.
Although the statue had been announced to be unveiled by President Dr. Ram Baran Yadav, it could not materialise since he refused to do so calling it a private achievement. He had demanded the registration of the property as a trust if he were to unveil it.