Chevrolet Beat launched in Nepali market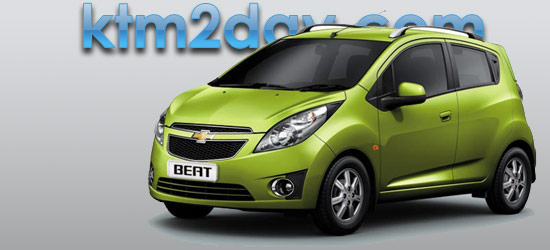 Vijay Motors — the sole authorized distributor of General Motors for Nepal — has launched Chevrolet Beat in the market of Nepal. Beat is the new car in Chevrolet´s 300 series after Cruze that Vijay Motors launched a couple of months ago.
Beat has already been launched in over 150 markets across the world. The company has described that car as spirited, stylish, aggressive and bold.
The 1.2 L Beat comes in three models — 1.2, 1.2LS and 1.2LT. The outstanding features available in Chevrolet Beat are the best mileage in the cars of its segment, 14 inch wheels that gives a better ground clearance, highly spacious interior, USB port, auxiliary port and roof rails.
"The exterior as well as interior design of the Beat is unbeatable in the cars of this segment. The superior designs that are available in Beat were previously available only in high range cars," said Karl Slym, chairman and managing director of General Motors India.
The Beat is available in seven colors — Olympic White, Linen Beige, Caviar Black, Misty Lake, Moroccan Blue, Green Cocktail and Super Red.
General Motors claims Beat to be the toughest cars in its segment as 66.5 percent of it is made up of high-strength steel and 16 percent of it is made up of ultra-strength steel.
The car is very safe as it has H-spider type ultra high strength steel bars in the underbody to prevent cabin from being deformed and harming the people inside, Vijay Motors said in a statement. It also has anti-lock braking system which is a rare feature in mini-cars.
As the pre-budget offer, General Motors is providing special 10-day offer on Beat. The offer includes free basic accessories like music system, number plate, speaker and carpet; 3 years or 45,000 km free maintenance including engine oil, three years or 100,000 km warranty.
The company is also paying registration tax and road tax for a year under the special offer.
Vijay Motors has already received 17 bookings for 17 and six of they have already been delivered.
Chevrolet Beat
Displacement: 1200 cc
Ground Clearance: 165 mm
Mileage: 18.6 km per liter
Price : Rs 2,100,000 (1.2 LT)
Price : Rs 2,270,000 (1.2 LT with options)