Tourist arrivals in August surged by 24.3%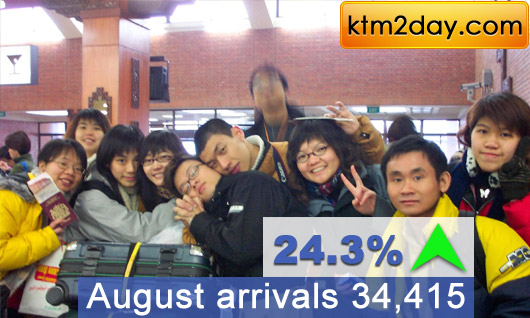 Tourist arrivals in August have surged by 24.3 percent giving an encouraging outlook for the upcoming tourist season. All the major five-star hotels in the country have over 90 percent bookings for autumn.
The latest statistics of the Nepal Tourism Board (NTB) show that 34,415 tourists arrived in the country via air in August. A significant surge in arrivals from South Asia (up 34.9 percent), Asia including China and Europe has contributed to the growth.
As per NTB statistics, tourist arrivals in August from India, Sri Lanka and Bangladesh jumped by 35.1 percent, 57 percent and 51.6 percent respectively. A robust growth of 20 percent has been observed in arrivals from the South Asian region during the first eight months of 2010 compared to the same period last year.
Arrivals from China, one of the fastest growing tourist markets for Nepal, soared 68.3 percent. Malaysia (up 85.7 percent) and South Korea (up 28.6 percent) were other growth markets. However, the number of visitors from Japan, Singapore and Thailand has declined by 5.3 percent, 32.9 percent and 9.7 percent respectively.
A healthy growth has been recorded in tourist arrivals from major European countries. According to the NTB, Europe registered a positive growth of 18.9 percent.
The first eight months (January-August) of 2010 saw overall tourist arrivals going up by 20 percent. A total of 260,072 tourists arrived in Nepal during this period compared to 217,242 last year.