Whirlpool launches Protton series refrigerators in Nepal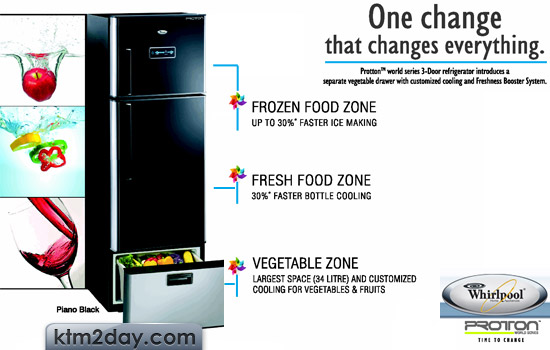 Whirlpool's world-class Protton Series refrigerators are now available in Nepal through its authorised distributor Navin Distributors Pvt Ltd. "Whirpool's Protton World Series is the perfect blend of design and functionality, thoughtfully designed for convenience and silent performance," said the company. "Whirlpool products have been available in Nepal since 1995 and they continue to bring some of the best and most trusted home appliances to their consumers here," the company said.
The unique format of the Protton Series goes beyond aesthetics to make your life efficient and effortless. The Protton 3-Door refrigerator is the first of its kind in Nepal has three distinct zones for all cooling needs. "There are three distinct, customised zones in the Protton Series refrigerators — A Fresh Food Zone; a high performance Frozen Food Zone; and a Vegetable Zone with a revolutionary Freshness Booster System for fruits and vegetables," claimed the company.
It has an intuitive, convenient Space Management system with designated areas for eggs, chocolates, fruits, bottled beverages, glasses, and cans. In addition, Whirlpool has a great festive advantage, giving even more reasons to choose Protton Refrigerators this season.
On purchase of Whirlpool Protton World Series products, a customer is guaranteed with a free gift of Free Whirlpool 20 Ltr Solo Microwave Oven worth Rs 7,300 with all Protton and Professional Refrigerator Series (310 Ltr & Above).