GSM mobile subscribers increase by 92% in Nepal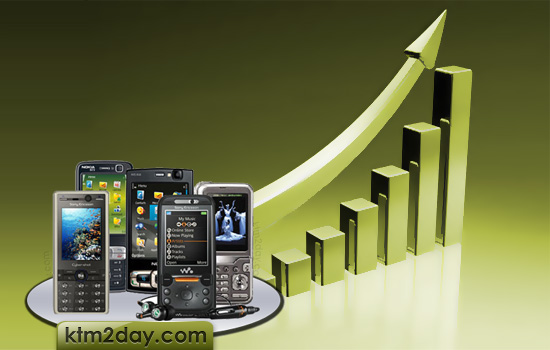 The subscription to GSM mobiles, a major communication service, increased heavily in the first month of the current fiscal year. With increased popularity and lowering prices of the service and device, the subscription rate has increased by a whopping 92 percent compared to that in the same period last year.
According to statistics of the Nepal Telecommunications Authority, the regulatory body of the telecom sector, the subscription to the GSM service during the first month (Mid-July to mid-Aug) of the current fiscal increased by 304,290 whereas in the same period last year a total of 158,467 GSM users subscribed to the service.
Till the end of the last fiscal year (Mid-July 2010), there were 6.9 million GSM mobile service subscribers including 3.96 million of the state-owned Nepal Telecom and 2.94 million of the first private sector GSM mobile operator — Spice Nepal.
The subscriber base of the telecom service has also increased to 9.33 million as of mid-Aug. 2010. Of this, 7.2 million are GSM mobile users with a penetration rate of 28.64 percent. Supported heavily by GSM penetration, now telecom access has reached 33.34 percent of the estimated total 28 million population of the country.
According to an official at the authority, subscribers to GSM are increasing rapidly as a result of cutthroat competition between Nepal Telecom and Spice Nepal to offer services at cheaper price. "Though we do not know how safe it is to buy low cost devices having no type approval certification, those handsets have made the service available to a huge group of people having low income and have also increased tele-density," the official added.
During the first month of the current fiscal year, Nepal Telecom added 58,4983 users to its GSM network whereas its competitor Spice Nepal added 245,797 subscribers. As of mid-July 2009, Spice Nepal had 1.87 million subscribers and Nepal Telecom three million subscribers.
The growth rate of the telecom service subscription has clearly showed that users of the telecom service in Nepal will soon touch the 10 million-mark. Spice Nepal had intensified its activities on adding subscribers especially after the re-branding of its service from Mero Mobile to Ncell in March. Lately, it has been offering cheaper seats with SIM cards and has also introduced the world famous BlackBerry Solution in Nepal.
Nepal Telecom has also come up with a plan to add 2.21 million subscribers including 1.8 in the GSM mobile service within the current fiscal year. It is preparing to call global tender for building capacity for additional 5 million GSM mobile lines.
The GSM expansion started in 1999 when mobile service was introduced in the country. The telecom service expansion accelerated with the entry of private players like United Telecom and Spice Nepal.