Subscribers base of mobile phone services increases to 8.30 million in Nepal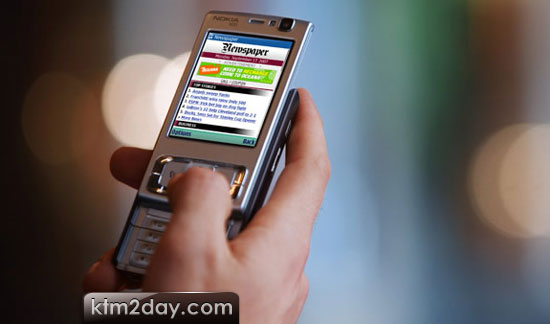 Subscribing to mobile phone services used to be a far-fetched dream for most Nepali till five years back because of high charges and expensive devices. Now, 30 out of 100 Nepalis are availing the service, thanks to the technology getting cheaper day by day and telecom operators making the service affordable.
The subscriber base of the mobile service has increased to 8.30 million (GSM mobiles 7.46 million and CDMA mobiles 842,246) as of mid-Sept. This means the service is now available to 29.61 percent of the total population.
According to Nepal Telecommunications Authority (NTA), the penetration rate of the whole telecom service has reached 34.33 percent with the subscribers' number reaching 9.62 million in the projected population of 28 million for 2010.
Fixed line service offered by Nepal Telecom, STM Telecom, Nepal Satellite Telecom, Smart Telecom and United Telecom is available to 2.99 percent and other telecom services of limited mobility service, global mobile personal communication by satellite (GMPCS) and third generation or 3G has penetration to 1.73 percent as of mid-Sept. this year.
Of the total 8.30 million GSM mobile users in the country, Nepal Telecom being the pioneer in the telecom markets holds the majority customer base of 4.03 million and its closest competitor Ncell has 3.42 million. Nepal Satellite Telecom, STM Telecom and Smart Telecom are also offering GSM technology based limited mobility mobile voice service in various part of the country.
Recently, on the occasion of launch of its 3G service in the Everest region, Ncell declared that its subscriber base had crossed 3.7 million and added that it was eyeing first position in the GSM market by next year.
"The mobile service has become cheaper because of competition between two telecom operators offering the same type of service," said Rabindra Sherchan, a subscriber of Nepal Telecom. "Now, handsets are available at a price range starting from Rs. 1,000 and charges by operators have also gone down significantly making the service affordable for customers like us."
The competition between the two operators is increasing every year, which at the bottom has benefited the consumers. Ncell last week declared it would invest Rs. 7.15 billion in network expansion during 2011. On the other hand, state owned telecom giant Nepal Telecom is all set to add 1.8 million GSM subscribers by establishing 710 base stations in various parts of the country in the current fiscal year and also call global tender to add 5 million GSM lines.
"If the competition continues to increase and other GSM operators too expand their network, the day is not far off when a telecom operator will be offering the voice service free targeting other value added services through data service," said Ananda Raj Khanal, acting chairman of the NTA. "Voice service will no longer be the major source of revenue. They might come up with new strategies for new services in the market to generate the returns from."