Mid-Marshyangdi hydropower to be shut for maintenance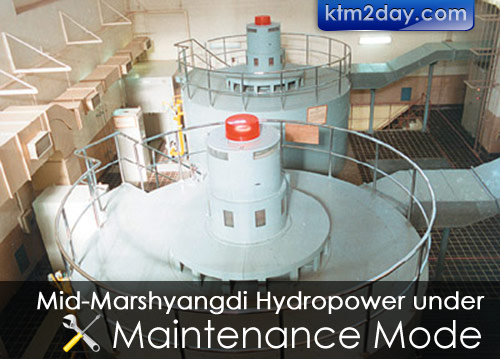 The country's largest hydropower project will stay shut for a week starting Monday. The closure of Mid-Marshyangdi Hydro Electricity Project is likely to add to the country's power woes.
According to project chief Mahendra Adhikari, Mid-Marshyangdi will be closed for the next three weeks owing to the repair and overhauling of the turbines.
He said that both the 35-MW capacity turbines will be completely shut down for the next first week and later repair works will be carried out simultaneously to minimise the energy crisis in the country.
"The repair and maintenance work is being carried out as per the agreement signed during the construction period that binds us to carry out repair work every year," said Bhandari.
"We will try to expedite the repair work to minimize the burden of load-shedding in the country". Maintenance will be carried out by German and Australian companies, respectively.
Meanwhile, Chiranjivi Sharma, chief of the Department of Systems Operation and Maintenance of Nepal Electricity Authority, said that the new schedule of load-shedding has not been fixed yet. "We are holding a meeting in this regard and will publicise the new schedule soon," he added.(Source:ekantipur)