World's First 5kWh Portable Power Station Launched by Abearl with highest energy density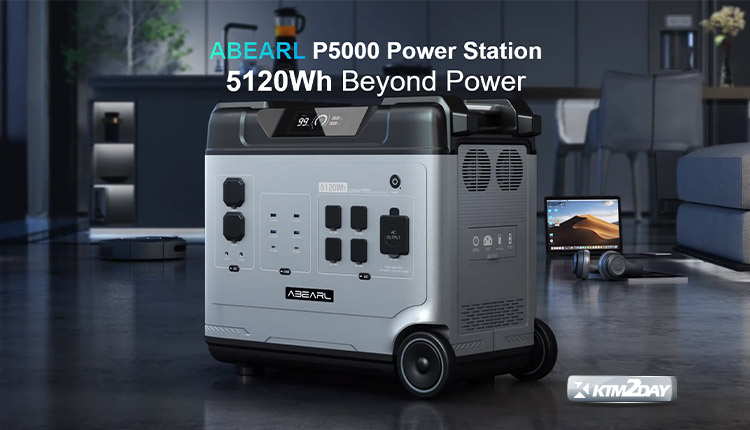 It's about to be unveiled on Kickstarter: the world's first 5 kWh portable power station with the highest energy density.
The innovative tech business OUKITEL has introduced a new product line under the brand name ABEARL, with the goal of providing safer, faster, and more sustainable power supply solutions to improve people's daily lives.
The development of solar energy, smart home backup systems, and portable power sources are ongoing areas of focus for ABEARL.
Their ultimate objective is to supply homes with a green energy source that won't run out of steam very soon while trying to cut down on carbon output.
Their initial product, the P5000 portable power station, boasts the highest energy density and output power of any such device in the world. On January 6, 2023, the project will be unveiled on Kickstarter.
The P5000 is 63% lower in weight than conventional 5 kilowatt-hour (kWh) power plants.
It took the ABEARL dynamic battery R&D team four years to find success with regards to improving LiFePO4 battery safety while simultaneously enhancing energy density.
Drop testing, extremely high and low temperature tests, charging cycle tests, and so on have all been successfully completed on all batteries.
In the words of ABEARL's R&D director Ricky Johnson: "We don't want basic industrial standards; we want to make sure the P5000 is the safest power plant ever."
ABEARL P5000 : FEATURES
The ABEARL P5000 portable power station has several of the standard features, like a large capacity, high output power, multiple output ports, and rapid charging.
LiFePO4 batteries are used in the P5000, and their 3500 life cycles are significantly more than the standard 500 life cycles.
The installation of a state-of-the-art BMS system has increased security and charging efficiency.
Also, it may be charged using conventional outlets, solar panels, or a vehicle's power supply.
The built-in UPS mode ensures a transfer from grid to battery in under 10ms, making it suitable for use with electronics such as laptops, appliances, and CPAP machines.
The P5000 is very light for the amount of power it provides (112.4 lbs).
The suitcase style makes it convenient to take anywhere. For these reasons, it is a perfect backup power source for campers and other outdoor enthusiasts, as well as in times of crisis like blackouts.