Nepal Telecom extends festive scheme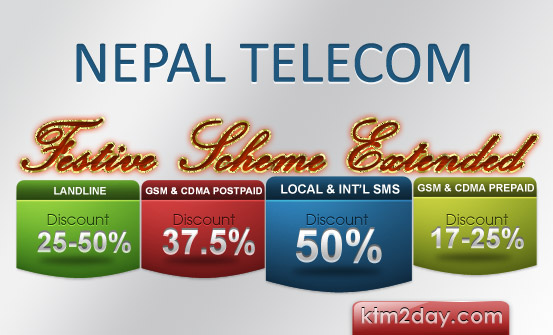 State-owned telecom giant Nepal Telecom has decided to continue the Dashain and Tihar festival discounts as a prelude to tariff cuts for its mobile and landline telecommunication services.
The company's board settled on extending the festive scheme as it would take time to draw the new price schedule and get it approved by the Nepal Telecommunications Authority. The festival discount was planned to end on Nov. 13.
The festive offer provides a 25-50 percent discount on the tariff for landline phones, 37.5 percent for GSM and CDMA post-paid, 17-25 percent for pre-paid GSM and CDMA and 50 percent for local and international SMS."The festival offer has been extended for one more month," said Jiban Ratna Shakya, director of Nepal Telecom's Mobile Service Directorate.
The country's largest telecom operator had introduced the festival offer for Oct. 8 to Nov. 13 targeting the Dashain, Tihar and Chhath festivals. It has moved to cut the rates as competitor Ncell has been offering calls at Rs 1.99 per call across the nation since July.
Currently, Nepal Telecom's tariff stands at Rs 2 per call for pre-paid GSM and Rs 1.80 for CDMA. The charge for post-paid GSM and CDMA is Rs 1.60 per call.
"For now, the festive offer will be continued and a cheaper rate will be introduced after the management finishes the necessary homework and obtains the Nepal Telecommunications Authority's approval," said a board member. "The tariff will be cheaper than that of other telecom operators."
The revised tariff is likely to range between Rs 1.50 to Rs 1.70 per call and be targeted at pre-paid users.
Nepal Telecom has 5.64 million users including 4.87 million GSM and CDMA mobile users as of mid-September 2010. Its pre-paid mobile service has more than 4 million subscribers.
Nepal Telecom's extended festive offer also allows subscriber to activate GPRS, family and friend, call waiting, monthly multiparty conference and incoming free of cost while in domestic roaming. It also provides GPRS service at Rs 0.15 per 100 kilobytes, a discount of 40 percent.