Nepal Tourism Year 2011 promoted in Sweden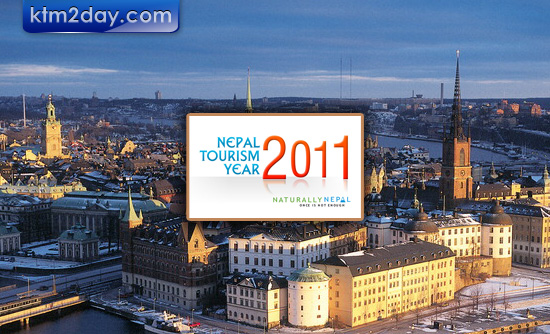 Nepali ambassador in Sweden Vijay Kant Lal Karna felicitated Swedish people and organisations for their contribution to promoting Nepal and Nepali tourism in Sweden, on Friday.
Swedish government officials, summiteers, frequent visitors to Nepal, academicians, travel tour entrepreneurs, travel writers, hoteliers, Nepalis and Swedish nationals from different walks of life were present on the event, which was supported by Nepal Tourism Board (NTB) and organised by the Embassy of Nepal in Copenhagen.
The envoy presented special metal plaques, certificates and Khadas/Shawl to 35 persons including mountaineers who have scaled Mt Everest and other summits in Nepal, tourism entrepreneurs, travel writers and friends of Nepal, and presidents of Swedish Alpine Club, Swedish Climbing Federation, Swedish Mountain Guide Organisation and Sweden Nepal Society. On the occasion, the envoy distributed certificates to 13 Swedish mountaineers who have scaled the Mt Everest and appointed them as Nepal Tourism Year-2011 Honorary Goodwill Ambassadors.
Karna in his speech said the objective of the get-together was to turn spotlight on upcoming Nepal Tourism Year 2011 and interactions between the two countries to promote Nepal as a tourist destination of choice and make tourism year campaign a huge success.
He also briefed the audience about the tourism promotion activities being undertaken by the Nepali Embassy in Copenhagen. Renata Chlumska, the first Swedish woman to scale the Mt Everest, said ever since she encountered the Himalayas in Nepal, her worldview has been profoundly impacted. "Nepal and its Himalayas have this mystic capacity and I am determined and continue to spread this message to the coming generation," she said.
Pontus Axelsson, president of Swedish Climbing Federation and the parents of the late Swedish Mountaineer Thomas Ollson, expressed pleasure over receiving honours from the Nepali Embassy and said that the honour will encourage them to work for promoting Nepal's tourism in Sweden.
Dr Roland Dahlmann, honourary Nepali Consul General in Stockholm, and Gajendra Bahadur Shrestha, honourary Swedish Consul General in Kathmandu, also addressed the function.(Source:THT)