Samsung ST5500 14.5 Megapixel digital camera Price in Nepal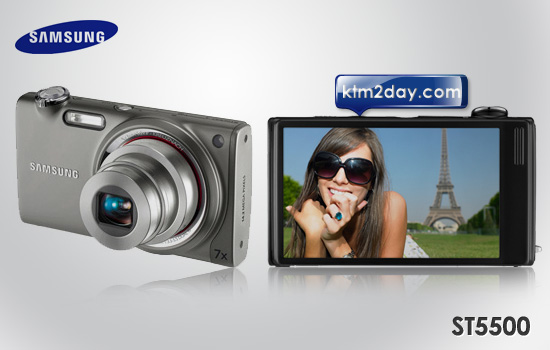 Iconic looks. Innovative performance.
The ST5500's design is the sum of amazingly useful yet stunningly stylish innovations that make it stand out from the crowd. Innovations like the Slanted Shutter, designed to comfortably fit your finger, or the handsome oversized lens that lets you aim in style. The ST5500's body is accented by fluid, hydro-formed lines. And its self-standing Posture 7° physique makes taking those tricky self-portraits a snap.
HD movies in the palm of your hand
Imagine having HD video recording capabilities in a camera that fits in the palm of your hand. One that delivers impressive 720p HD quality video at 30 frames per second. With the H.264 format that offers recording time 2 times longer than MPEG-4 and 4 times longer than MJPEG video. And this camera lets you get creative – just use one of its many cool effects, such as sketch mode. Then hook it up to any HDTV or HD monitor with an HDMI and you're ready to share all the HD action.
Standard Retail Price: NRs. 33,990