ZTE to launch Tablet PC and surveillance equipments in Nepali market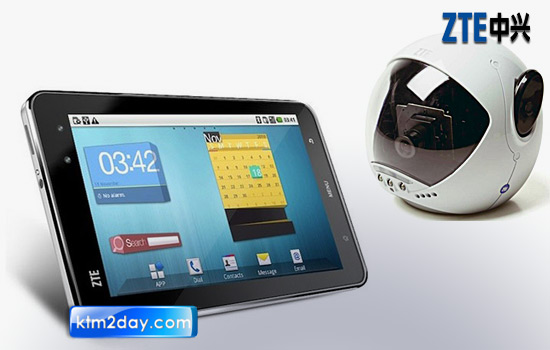 ZTE, a trusted Chinese brand, is preparing to launch ZTE surveillance equipment and ZTE Light (Smart Pad) in the Nepali market. The ZTE products will be displayed at the Information and Communication Technology (ICT) Info- Trade 2011 from 5 January to 9 January in Bhrikuti Mandap Exhibition Hall.
The predecessor of ZTE corporation was founded as Zhongxing Semiconductor Co Ltd in 1985 at Shenzhen of China. It is now one of the world's leading integrated communication companies as well as a top provider of communications solutions. It is one of the principal providers of telecommunications equipment and network solutions worldwide. It is committed to providing high quality customised products and services. ZTE is present in over 100 countries and the number of its employees exceeds 80,000. It produces quality products at affordable prices for consumers and the telecommunication industry.
ZTE is planning to launch a security camera, which is a technical surveillance equipment used for banks, housing companies, malls etcetera. Similarly, ZTE is also looking forward to introduce the Smart Pad, which is a touch screen 3G Android Tablet PC. Its target customers for surveillance are institution and telecommunication companies while Smart Pads are aimed at customers who value having mobility at affordable price.
Advertising agency v-chitra, which handles publicity for ZTE, claims that the brand maintains high standards. It has provided equipment to Ncell and NTC, the leading telecommunications providers of Nepal. ZTE has also been supplying goods to NCell and other foreign government projects. Plans were made to launch ZTE products in Nepal about five months ago. As ZTE has a strong presence in over 148 countries, it was considered the right time to launch these products in the Nepali market. PK Traders is the authorised distributor for ZTE products in Nepal. ZTE will have a back up centre along with 200 plus service centres to provide after-sales service for the country.
The ZTE products will supposedly be branded in such a way that will justify the quality of the brand. The company promises to provide complete solutions for surveillance products to match specific needs of consumers in terms of service at affordable price. For surveillance products alone, ZTE sales have crossed USD 200 Million in 2009.
In the last 25 years, ZTE has changed the pattern and trend of global telecommunications and brought vigor and vitality to the global telecom industry. It transformed its status from a 2G follower to a 3G leader and established the image of ZTE as a brand leader both in the Chinese and global telecom market.
ZTE continues to provide excellent products and high quality service as well as a range of co-branding activities with partners to create a strong and fast-growing handset brand.
ZTE covers virtually every sector of the wireline, wireless, service and terminal markets and was ranked as the number six terminal provider with the fastest growth rate of 36 per cent in the first half of 2009.
Aiming to become the most reliable customisation partners and the favourite brand of operators worldwide, ZTE cooperates and co-brands with operators increasing its own brand value while maximising customers' interests.
To meet the wide variety of customer requirements and to ensure sustained business development for operators in this highly competitive market, ZTE is committed to continuously exploring and developing the next generation of mobile phones. The long term commitment of ZTE is its 10 per cent of sales revenue invested to research and development for 25 successive years. It has 15 research and development centres worldwide.
Its mission is to make the ZTE brand famous around the world and lead as a world- class business brand by 2011. It aims to enter the top three slot by 2013 and to become a world class enterprise by 2015. It has already exhibited its reliability by exhibitiing 'zero failure' during its involvement in international sport events like Athens Olympics in 2004, Beijing Olympics in 2008 and South Africa World Cup 2008. (Source :THT)
ZTE at a glance :
1985 – Establishment of ZTE
2004 – Donation of telecom equipment worth USD 2.56 million to tsunami victims
2008 – Formally affiliated to United Nations Global Compact
2008 – Launched China's largest Caring for Children Fund
2008 – Supported the Sichuan earthquake rescue operations
2009 – Shipments of CDMA base stations pushed ZTE to the position of World number one for the fourth consecutive year in the field of wireless products
2009 – During the global financial crisis, the performance of the company still maintained a growth rate of over 40 per cent
2009 – Employment of more than 4,000 workers in the financial crisis
2009 – Ranked number one in China's 3G market
2009 – 60 million of units sold, ranking sixth in terms of shipments
2010 – In the first half of 2010, 40 million units of terminal devices were sold.
It ranked fifth in the world and first in China.