Ncell ahead of NT in terms of net subscribers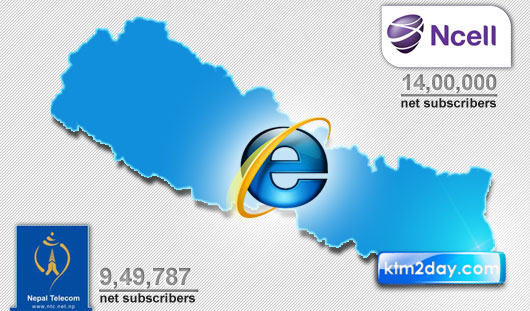 With 1.4 million subscribers, Ncell remained number one telecom service provider in terms of data/internet services subscribers, according to a report by Nepal Telecommunications Authority. "Its nearest competitor Nepal Telecom (NT) has 9,49,787 data/internet service subscribers by mid-April, Management Information System report of mid-March to mid-April stated.
The number of subscriber of Ncell includes only the users of GPRS service whereas the number of subscribers of Nepal Telecom includes service users of different four services including dial-up, ADSL, GPRS and CDMA.
Besides these two giant players, UTL has 43,923 data/internet service users and ISPs 65,000 data/internet service users, according to regulator.
However, experts said that the data is not satisfactory. "The internet penetration rate has gone up due to GPRS users," NTA director Ananda Raj Khanal said, adding that mobile users use internet basically for communication purpose.
Internet users of GPRS should not be counted as data users, he said, adding the current trend of using internet does not contribute to the overall development activities including e-governance, e-health and e-commerce.
Internet penetration is also connected with other aspect including personal computer (PC) and laptops penetration rates, he informed. "Lots of things are to be done not only from telecom perspective but from other perspective as well to increase the real penetration rate," he suggested.
Internet and data users of dial up service users touched 25,569; whereas Wireless Modem and Optical Fibre Ethernet users touched 13,000; Cable Modem users touched 32,500, ADSL users are 58,763, GPRS users stood at 2,181,153 and CDMA users are 186,016.(Source:THT)