DDC sets out plan for expansion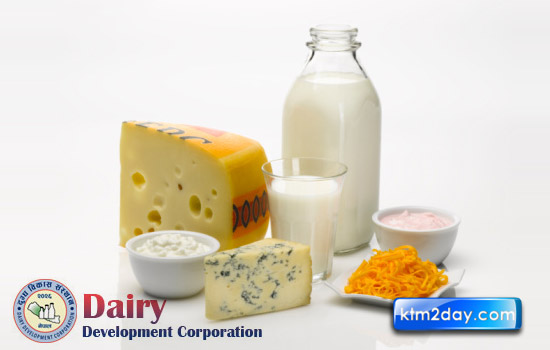 State-owned Dairy Development Corporation (DDC) has asked for the government's go-ahead to expand its ongoing Gai Mai programme to 60 districts. Following the success of the pilot project launched in nine districts last year, the dairy regulatory body has sought a budget of Rs 50 million from the government to expand the scheme.
Gai Mai is a project focused on encouraging the maximum number of women to engage in rearing cows. The project aims to create income generation opportunities for women and help alleviate poverty.
According to the DDC, the proposed programme includes providing 30,000 cows to rural women with the support of the government. The programme has targeted increasing milk production significantly. The country's daily requirement of milk of 1.2 million litres surpasses supply by 400,000 litres. "The programme will support women to invest in cow rearing," said Siyaram Prasad Singh, officiating deputy general manager of DDC. The programme was launched in nine districts including Makwanpur, Bara, Rautahat, Dhanusha and Siraha last year. Under the first phase, 500 cows were distributed to rural women that led to a significant increase in milk production. The pilot project has become successful in all the districts. "Following the success, we have planned to expand the programme to 60 districts this year."
Under the Ministry of Agriculture and Cooperatives (MoAC) Dairy Development Programme, participating women are provided soft loans. Currently, DDC is collecting milk through 1,100 cooperatives across the country. It maintains 63 milk chilling centres in 34 districts.
As of now, DDC has a 40 percent share of the milk market. About 100,000 farmers from 1,100 cooperatives are supplying milk to DDC.
The corporation has also planned to establish six chilling centres in Dadeldhura, Baitadi and Attariya of Kanchanpur in the Far Western Region in the next fiscal year.
Singh said that Kailali, Kanchanpur, Dadeldhura and Baitadi were high potential areas for milk production. DDC is also planning to expand its Balaju production centre while it has planned to build a new processing factory at Khumaltar in Lalitpur district next year. The estimated cost of the plant at Khumaltar is Rs 140 million. The planned automatic processing plant is expected to double the production capacity.
The corporation has targeted increasing the capacity of its milk processing plant at Balaju to 200,000 litres daily from 140,000 litres. The estimated cost of the processing plant is Rs 80 million.(Source:ekantipur)