New govt website to have complete public service info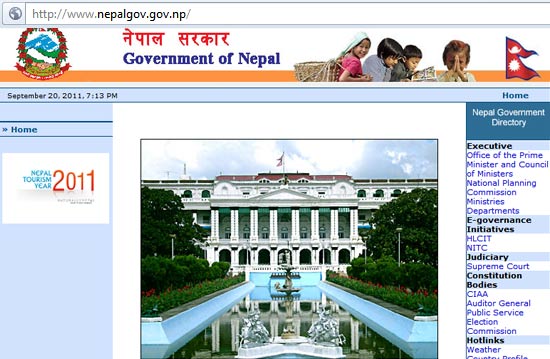 Common Nepalis who visit the government's official web portal often get frustrated by the limited information it provides. Except for the links of ministries and constitutional bodies, the government website—www.nepalgov.gov.np—does not have any information about services that the government agencies provide to the citizens.
In a bid to address this problem and provide services in a hassle free manner, the government is working to transform its current official website into a full-fledged portal that will have complete information about public services. The initiative is being carried out under the government's e-governance master plan supported by the Asian Development Bank, according to the High-Level Commission for Information Technology (HLCIT).
HLCIT Vice-Chairman Manohar Bhattarai said the website will be developed in such a way that visitors can easily find desired information about any government offices and services they offer. "The website will contain information about ministries, departments under them and services they provide," said Bhattarai. "There will be links to all government offices' websites from where visitors can download forms for different services without visiting the offices concerned."
Once the website comes into full operation, people will be able to download forms for driving license application, marriage registration, birth registration and passport, among others. Bhattarai said they are also trying to develop a provision based on which people could also submit such forms online. "Fees for public services will also be notified on the website," he added.
As per the HLCIT plan, the website will be operated with all facilities as soon as the government starts maintaining a server related to e-governance master plan in the Government Integrated Data Centre (GIDC). HLCIT will officially launch the website as a part of implementation of e-governance as soon as work on the master plan starts.
The government in its policies and programmes for the current fiscal year has also stated to initiate e-governance work in service delivery for enhancing access of ordinary people to public services. The e-governance plan covers a wide range of IT-enabled reforms designed to raise the quality of the services the government delivers to citizens.(Source:ekantipur)