EU is largest buyer of Nepali garments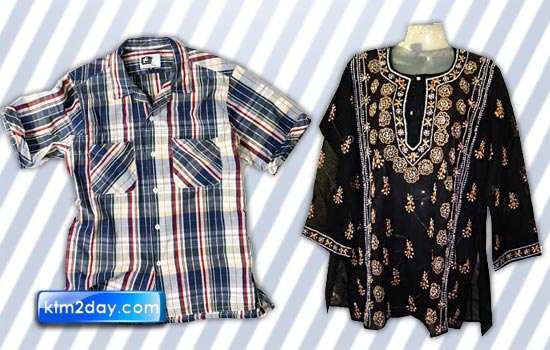 The European Union (EU) has become the largest buyer of Nepali readymade garments (RMG). Exports to the EU account for 46.13 percent of the country's total garment exports.
According to the Trade and Export Promotion Centre (TEPC), the UK, France, Germany, Spain and Italy have emerged as major buyers of Nepali RMG in the last five years. With exports to the US stagnating, the EU has given a much needed respite to Nepali RMG manufacturers.
In the last five years, RMG exports to the US, once the largest destination for Nepali RMG, has declined rapidly while the EU has emerged as the main market. In fiscal 2005-06, the US accounted for 55.16 percent of Nepal's total RMG exports while the EU accounted for 18.14 percent. Five years down the line, the EU has the largest share while the US accounts for only 21.49 percent.
Among the EU nations, France is the top importer of Nepali RMG followed by the UK and Germany. In fiscal 2009-10, France, the UK and Germany imported Nepali RMG worth Rs 707.76 million, Rs 479.29 million and Rs 287.49 million respectively.
"Growing demand from the EU in recent years has given much needed relief to Nepali RMG manufacturers," said Ashok Koirala, chief executive officer of the Garment Association of Nepal (GAN). According to him, there has been increasing enquiries for Nepali RMG from Japan and Israel too.
Nepal has been benefiting from the Duty-Free Derogation facility for textile, garment and sugar exports to Europe that the EU offers to 41 Least Developed Countries (LDCs). The EU has provided derogation facility to Nepal and Laos under which Nepal is not required to fulfil all the criteria of the rules of origin to get duty-free access to the European market. Other LDCs have to fulfil the criteria that both textiles and fabrics must be processed within the country to obtain duty-free access.
According to GAN, Nepali RMG manufacturers have been exporting mainly ladies products that include tops, trousers and boutique items to the EU market. "Mainly handmade and cotton items are getting buyers in the EU," said Koirala.
Even though the EU market has expanded, the Nepali RMG sector is still reeling from the impact of phasing out of the duty-free quota-free (DFQF) access to the US market. This has lead to the closure of many garment factories and loss of jobs. Due to increasing labour unrest, big RMG manufacturers have switched to outsourcing, letting small manufacturing units produce their requirements.
Major EU Buyers
| Countries | 2009-2010 | 2008-2009 | 2007-2008 | 2006-2007 | 2005-2006 |
| --- | --- | --- | --- | --- | --- |
| France | Rs 707.76 million | Rs 626.47 million | Rs 509.92 million | Rs 373.99 million | Rs 409.31 million |
| Germany | Rs 287.49 million | Rs 282.68 million | Rs 141.34 million | Rs 229.11 million | Rs 209.58 million |
| UK | Rs 479.29 million | Rs 404.38 million | Rs 231.16 million | Rs 192.83 million | Rs 299.52 million |
| Spain | Rs 102.90 million | Rs 112.99 million | Rs 105.79 million | Rs 128.99 million | Rs 110.78 million |
| Italy | Rs 156.34 million | Rs 206.51 million | Rs 125.44 million | Rs 81.15 million | Rs 164.79 million |
| Total | Rs 1.733 billion | Rs 1.633 billion | Rs 1.113 billion | Rs 1.006 billion | Rs 1.193 billion |
US and EU share in Nepali RMG export
| Countries | 2009-10 | 2008-09 | 2007-08 | 2006-07 | 2005-06 |
| --- | --- | --- | --- | --- | --- |
| EU | 46.13% | 37.53% | 33.59% | 21.34% | 18.14% |
| US | 21.49% | 23.08% | 34.31% | 48.31% | 55.16% |
(Source:ekantipur)