Qatar becomes biggest employer of Nepali migrant workers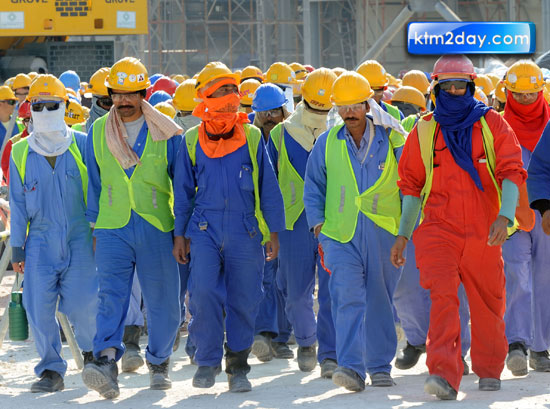 Qatar has emerged as the top hirer of Nepali migrant workers as it intensifies infrastructure development for the 2022 Soccer World Cup.
According to the Department of Foreign Employment (DoFE), hiring by Qatar jumped 125 percent in the first quarter. A total of 36,385 workers left for Qatar during the first three months of 2011-12 against 16,136 in the same period last year.
Government officials and foreign employment agencies have attributed the surge in worker departures to Qatar to increased hiring in the construction sector and a decline in the fees to be paid by job seekers.
"Qatar has become the largest labour market with demand for construction workers including security guards and secretarial workers going up with a focus on infrastructure development targeting the 2022 FIFA World Cup," said Som Lal Bataju, president of the Nepal Association of Foreign Employment Agencies (NAFEA).
According to Bataju, the maximum pre-departure costs for Qatar have also dropped from Rs 70,000 per person last year to Rs 35,000. Most of the Qatari firms hiring Nepali workers are providing free visa, free air ticket and a good salary compared to other countries. The Ministry of Labour and Transport Management has directed recruiting agencies not to send workers for a monthly salary of less than US$ 125 and also set the maximum costs to be born by workers at Rs 70,000 for Gulf countries.
The NAFEA said that demand from Qatar would increase further in the days to come as it would need more workers for mega infrastructure projects like stadiums, railway networks, hotels and road construction.
The hiring trend shows that Qatar had started to absorb more workers since February 2011, especially in the construction sector which is known as dirty, difficult and dangerous.
]According to an International Trade Union Confederation (ITUC) report, Qatar will need up to 1 million additional workers to build 12 stadiums, 70,000 new hotel rooms and road and railway links planned for the Soccer World Cup. The country is expected to see a huge growth in the migrant population during the run-up to the football extravaganza with infrastructure investments expected to top US$ 100 billion.
Of the total number of workers leaving for Qatar, 7,485 left through foreign employment agencies and 28,900 through personal links. The number of workers leaving for Qatar through personal links includes those returning to work after finishing their vacation in Nepal.
With Qatar becoming the largest labour destination for Nepali workers, Malaysia has been pushed down to second place. According to the DoFE, Malaysia took in 23,503 Nepali workers in Q1, down 29.29 percent.
Except for Malaysia, hiring by major countries has gone up significantly in the review period. Saudi Arabia took in 22,393 workers, up 47.81 percent from 15,149 in the same period last year. (Source:ekantipur)