Traders slash import volume as strong dollar bites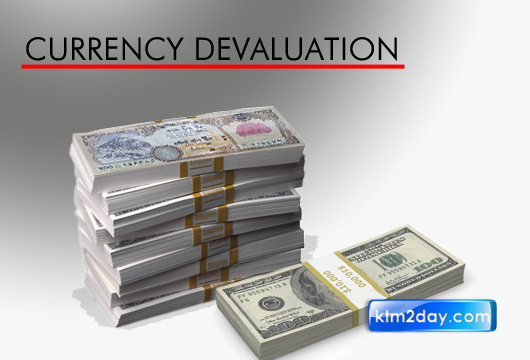 The depreciation of the Nepali rupee against the US dollar has forced importers to cut down imports. With the dollar gaining sharply against the Indian currency (IC) of late, the Nepali rupee is on a freefall as it is pegged with IC.
In the last three months, the exchange rate for the domestic currency has increased to Rs 84 against the dollar from Rs 72. This has forced traders to reduce their import volume by as high as 50 percent.
According to businessmen, those who imported goods through the 'Usance Letter of Credit (LC)' having a six-month credit period have been worst hit. Usance LC is payable at a determined future date after presentation of conforming documents. "Businesses that imported goods when the exchange rate was at Rs 72 per dollar are incurring heavy losses, as they now have to repay when the rate is at around Rs 84 per dollar," said an importer.
Bankers say the volume of their LC business has come down significantly. "As importers are in a wait-and-see mode, lesser LCs are being opened," said Himalayan Bank CEO Ashoke Rana.
Other victims of the steep rise in the value of the dollar against the rupee are businesses that are required to maintain huge inventory. Sahil Agrawal, executive director of Jagadamba Group—one of the largest steel manufacturers in the country—said they will reduce their inventory size until the exchange rate gets stable.
As Nepali financial institutions do not offer forward contracts (hedge against foreign exchange risk) on imports, importers are heavily exposed to foreign exchange risk, according to Manish Agrawal, executive member of the Federation of Nepalese Chamber of Commerce and Industry. "We are incurring losses due to the strong dollar and have decided to reduce our stocks of both finished goods and raw materials by 50 percent to avoid further losses," he said.
Sekhar Golchha, executive director of Golchha Organisation, also echoed Agrawal. "We are planning to reduce our inventory of electronic goods and automobiles by 30 percent," h said.
The Nepal Rastra Bank (NRB)'s recent macro-economic report says imports declined by 18.5 percent in the third month (mid-September to mid -October) of the current fiscal year compared to the previous month. The slowdown in import is also going to hit the government's revenue collection.
Although the devaluation of the domestic currency against the dollar has positive effects such as increased remittance inflow, traders say consumers will suffer as products imported from third countries will be expensive. "Goods imported from third countries have become dearer by 17-25 percent," said Akhil Chapagain, president of Nepal-Turkey Chamber of Commerce and Industry.
According to Chapagain, an imported item worth $100, which cost Rs 9360 when the dollar was at Rs 73, now is priced at Rs 10,915. (Source:ekantipur)