Nepal Oil Corporation ramps up fuel prices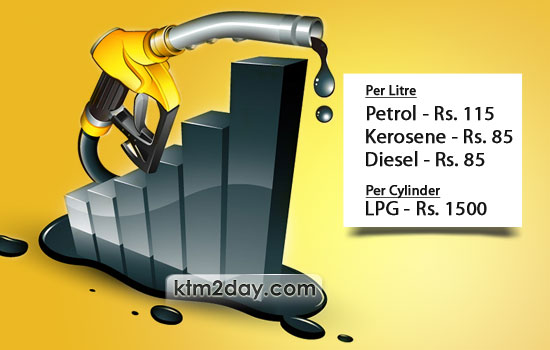 Nepal Oil Corporation (NOC) has jacked up fuel prices effective from Wednesday with the blessing of the government.
Diesel and kerosene now cost Rs 85 per litre, up from Rs 76. The price of petrol has been hiked to Rs 115 per litre from Rs 105. Similarly, the price of cooking gas has been increased to Rs 1,500 per cylinder from Rs 1,325. Aviation fuel sold to domestic airlines now costs Rs 105 per litre, up from Rs 100.
The state-owned oil monopoly said that fuel supplies would become normal across the country now that prices have been hiked. According to NOC, the price revision would bring down its monthly losses to Rs 860 million. The corporation claimed to have been losing Rs 1.76 billion each month by selling fuel for less than the cost price.
In addition to allowing NOC to ramp up prices, the Ministry of Commerce and Supplies (MoCS) has awarded the perennially broke corporation another relief package. The government will cover further losses incurred by NOC. "The government has also agreed to bear additional losses incurred by NOC," said MoCS Secretary Purushottam Ojha.
According to him, the government's move is designed to bring NOC to a "no loss, no profit" position. "The Ministry of Finance will release Rs 1.10 billion to NOC by next week." Rs 860 million is for current losses and the rest consists of tax refunds. Even after the price hike, NOC said it would be incurring a loss of Rs 12.90 per litre of diesel and Rs 276.72 per cylinder of cooking gas.
However, NOC will enjoy a profit of Rs 3.79, Rs 1.73, and Rs 17.28 on each litre of petrol, kerosene and aviation fuel respectively. "Spiralling crude oil prices in the international market and a stronger US dollar have prompted the loss-making corporation to take the bold decision," said NOC's spokesperson Mukunda Prasad Dhungel. According to him, pre-ssure on NOC to ensure smooth supplies and its burgeoning losses were other reasons behind the price hike. Fuel has been in short supply in the country for the last one and a half months.
The latest price hike will have spiral effects on transporat fares and food prices. Minister for Commerce and Supplies Lekh Raj Bhatta said that ransport fares could go up by 7 percent.
But the Commerce Ministry said the government would be introducing a cross-subsidy scheme within two months. Under the plan, there will be two types of gas cylinders—one for general consumers and the other for industry. General consumers will be charged less. (Source:ekantipur)