Domestic carriers up fuel surcharge by Rs 55-Rs 190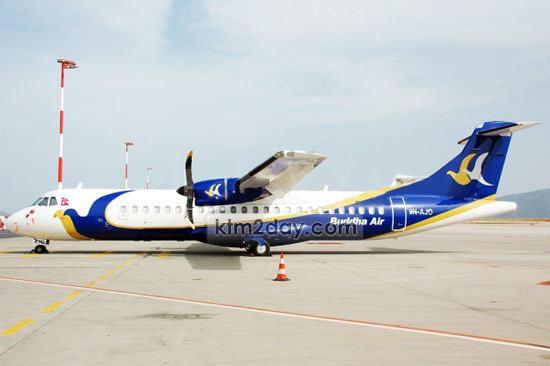 The domestic aviation sector has become the first one to react to the recent petroleum price hike. Airlines Operators Association of Nepal (AOAN) on Saturday decided to increase fuel surcharge by Rs 55-Rs 190.
The Nepal Oil Corporation (NOC) on Wednesday jacked up the air turbine fuel (ATF) price from Rs 100 to Rs 105.
Domestic carriers had last increased the fuel surcharge in May, 2011. Then, the rate was upped by Rs 225-Rs 750.
Buddha Air, the country's largest private carrier, enforced the new airfare from Saturday, while other airlines have said that they will adopt the new rates within next week. According to AOAN, Guna Airlines and Agni Air will adjust their airfares Tuesday, while Yeti Airlines within next week.
According to domestic carriers, they were forced to ramp up the fuel surcharge, as fuel contributes 30 percent to their overall operating cost. "With the price of the fuel rising again, airlines had to pass on the additional burden to consumers this time," said Prajwol Thapa, marketing manager of Guna Airlines.
With the latest adjustment in the fuel surcharge, airfares will be dearer by Rs 55 for Simara, by 65 for Bharatpur, by 75 for Janakpur and by Rs 85 for Pokhara. Flight tickets for Bhairahawa and Bhadrapur will be costlier by Rs 105, Biratnagar by Rs 115, Nepalgunj by Rs 150 and Dhangadi by Rs 190.
International passengers (except Indian) will have to pay an additional $3 for mountain flights, while Nepali and Indian tourists will have to pay Rs 185 more, according to AOAN. Earlier, domestic airlines had been charging $31 as fuel surcharge for third country tourists and Rs 3750 for Nepali and Indian tourists for mountain flights.
Generally, airlines increase fuel surcharge when ATF price is increased by over Rs 4 per litre. The regulator, Civil Aviation Authority of Nepal (CAAN), reviews airfares every two years on the basis of inflation rate, fuel price and maintenance cost. The private air operators had hiked airfares by 13-48 percent in February, 2011, following the approval from the authority.
Airlines say the latest adjustment in fuel surcharge will also be applicable to their cheap flight ticket schemes. Except for these schemes, the normal fare of all airlines is uniform across all routes.
Fuel surcharge adjustment

| Sector | Old Rate | Increment | New Rate |
| --- | --- | --- | --- |
| Simara | Rs 1125 | Rs 55 | Rs 1180 |
| Bharatpur | Rs 1310 | Rs 65 | Rs 1375 |
| Janakpur | Rs 1500 | Rs 75 | Rs 1575 |
| Pokhara | Rs 1685 | Rs 85 | Rs 1770 |
| Bhairahawa | Rs 2060 | Rs 105 | Rs 2165 |
| Bhadrapur | Rs 2750 | Rs 105 | Rs 2855 |
| Biratnagar | Rs 2310 | Rs 115 | Rs 2425 |
| Nepalgunj | Rs 2935 | Rs 150 | Rs 3085 |
| Dhangadi | Rs 3875 | Rs 190 | Rs 4065 |
(Source:ekantipur)