Nepal to grow at 5pc this fiscal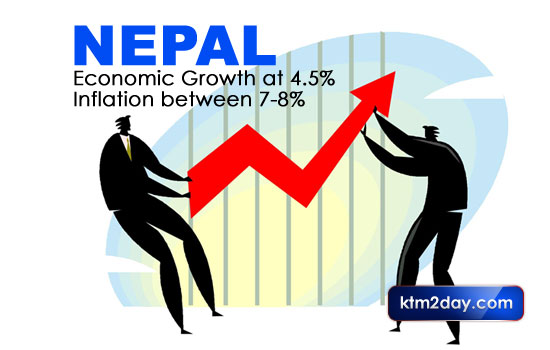 Nepal's economy will grow at 5 percent in the current fiscal year, while inflation will remain at 8 percent, according the Nepal Rastra Bank forecast.
A meeting of the NRB management committee represented by the governor, two deputy governors and a board member, on Tuesday decided to submit this forecast to the board for approval, according to a NRB source. The central bank will then review the monetary policy for the current fiscal year based on the forecast.
Recently, the Finance Ministry had forecast economic growth at 4.5 percent and inflation between 7 and 8 percent. The budget for the current fiscal year had targeted 5 percent growth and 7 percent inflation.
With food prices decreasing in India, the NRB management committee decided to keep inflation forecast moderate.
According to a recent NRB study, Indian inflation has direct impact on Nepal's commodity prices under normal condition. As the current fall in food prices in India is seasonal, the possibility of a rise in food prices cannot be ruled out. On the other hand, better monsoon is expected to help to achieve the targeted economic growth.(Source:ekantipur)