Nepal pins high hopes on Hydropower Summit 2012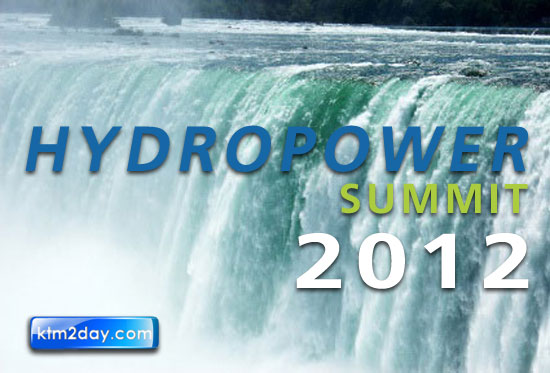 After a four-year hiatus, power developers from Nepal and India are again assembling in Kathmandu for the Hydropower Summit 2012, taking place on March 14 and 15.
Unlike earlier summits on hydropower, this meet is being organized with active participation of apex private sector bodies from Nepal and India. Federation of Nepal Chamber and Commerce (FNCCI), Independent Power Producers' Association of Nepal (IPPAN), Nepal-India Chamber and Commerce and Industries (NICCI), Confederation of Indian Industries (CII) and EXIM Bank of India are the organizers of the summit.
The summit bears much significance also because of the fact that it is being organized at the time when uncertainty among potential foreign investors to put money in Nepal's power sector due to a series of disturbances and lack of a stable regulatory framework.
"The idea behind holding the summit is to discuss on investment climate in hydropower sector, how to work together with recently formed Investment Board and to chart out policies required to expedite hydropower development," said Subarna Das Shrestha, president of IPPAN.
The two-day summit will see participants discuss on numbers of issues ranging from policy framework and current challenges in hydropower development to domestic grid network and cross-border transmission linkages.
After the euphoria of 2006-2008 that saw Indian hydropower developers coming to Nepal, foreign power developers have since become skeptic over making investment in Nepal. The regime change in 2006 was a watershed at wooing back investors that also saw increasing engagement between Indian and Nepali power developers. IPPAN and Power Trading Corporation (PTC) of India organized three editions of the Power Summit in Kathmandu during that period.
Besides hostilities at the ground level, international hydropower developers are also faced with problems related to government indecision over Power Development Agreement (PDA).
PDAs of as many as seven projects have been stalled, with no progress made on the Upper Karnali (900 MW), Tamakoshi 3A (880 MW), Upper Marsyangdi (600 MW), Arun III (402 MW), Lower Arun (400 MW), Balefi (50 MW) and Likhu (34 MW) for around two years.
"The enthusiasm that we saw five-six years ago has slowed down, especially in last two years," said Shrestha. "Hence, this summit is also for giving new momentum." (Source:ekantipur)