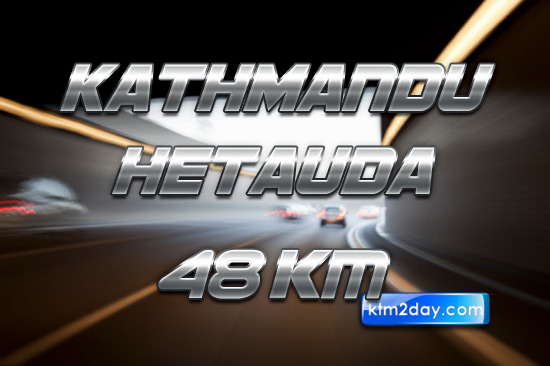 Prime Minister Dr. Baburam Bhattarai on Monday said that the country was at a crossroads to start creating its own history by beginning economic revolution so as to build a New Nepal.
Addressing a gathering organised to sign an agreement between the Ministry of Physical Planning and Works and Nepal Purbadhar Bikas Company Limited, an infrastructure development company, at the National Planning Commission (NPC) Secretariat at Singh Durbar, Prime Minister Dr. Bhattarai said that it was one of the first projects being constructed under the public-private partnership with the people's mobilisation.
He said that the project was a landmark to kick off the initiatives of building a New Nepal.
Prime Minister Bhattarai assured the private sector that there would be no problem while implementing the project.
"There were only talks, now the time has come for us to show by doing something," he said asking the private sector to remain committed and serious on their part.
Stating that the government was committed to completing the process of drafting a new constitution by May 27, he informed that the process of starting large projects is underway.
He also urged the government officials, private sector and the people to make the project a landmark project that could help boost the investment climate in the country and also help enhance the morale of foreign investors.
Vice-Chairman of the NPC Dipendra Bahadur Kshetri said that the project was started clarifying some legal and policy level hindrances to start BOOT model.
He hoped that the project would be a success model.
Kush Kumar Joshi, Chairman of the Nepal Purbadhar Bikas Company Limited, said that the construction of the Kathmandu-Hetauda road would turn out to be economic and efficient for the country.
The 48-km Kathmandu-Kulekhani-Hetauda Tunnel Highway will have around 3-km long tunnel.
The Ministry of Physical Planning and Works and the Nepal Purbadhar Bikash Company Limited have signed the preliminary agreement at the NPC hall at the presence of Prime Minister Dr. Baburam Bhattarai.
The total cost of the project is estimated around Rs. 20 billion.
With the completion of the road, it will take around one hour to reach Hetauda from Kathmandu. There are two to three alternative ways at present to reach Hetauda from Kathmandu. All these roads take around 7-8 hours.
Joshi said that the road would turn a life line for the country if it was completed within the stipulated timeframe.
He informed that it will take around six months for the feasibility study of the project and around three and a half years to complete the whole project.