Indian airlines largest tourist carriers to Nepal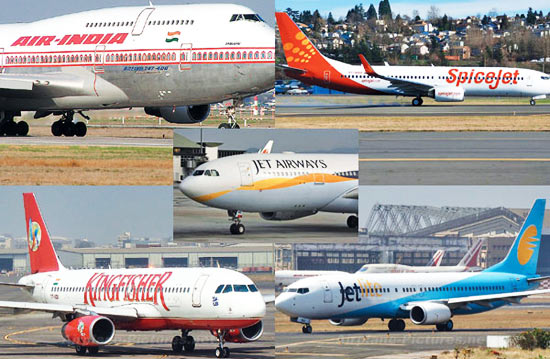 Airlines from India account for the largest share of inbound tourism in Nepal. According to Tribhuvan International Airport (TIA), Indian carriers flew almost 48 percent of all the tourists visiting Nepal in 2011.
As per TIA stats, five Indian airlines—Spice Jet, Jet Airways, Air India, Jet Lite and Kingfisher—are among the top 10 carriers bringing tourists to Nepal. Arrivals of tourist via air amounted 544,985 in 2011. There are 28 international airlines connecting Nepal at present.
Indian budget airline Spice Jet was the largest carrier of tourists into Nepal in 2011, accounting for 15.28 percent of the arrivals. Spice Jet took the top spot 14 months after it entered the Nepali skies. The airline started flying to Nepal in October 2010.
Jet Airways and Air India are the second and third largest tourist carriers with shares of 12 percent and 8 percent respectively. Air India has slipped to the third position from its number one slot in 2010. Jet Airways was in second place last year too.
Two legacy carriers—Thai Airways and Qatar Airways—fell in the inbound tourism rankings in 2011. Thai's market share shrunk to 8 percent from 11 percent while the share of Qatar Airways slipped to 7 percent. Two carriers from the Middle East, Etihad Airways and Gulf Air, have lost their slots in the top 10 list.
Among Indian carriers, Kingfisher's market share shrank due to its deteriorating financial condition. Kingfisher has not been flying to Nepal for the last few months.
The market share of Indian carriers surged as tourists have a number of airlines to choose from while flying to Nepal from New Delhi, said Bhola Bikram Thapa, managing director of President Travels and Tours.
The progress made by Spice Jet illustrates how low cost airlines (LCCs) are expanding their share at a speedy rate and displacing legacy carriers. It also shows that tourists prefer LCCs to fly to Nepal. "The surprising business of Spice Jet can be attributed to the increased number of Indian visitors in Nepal last year," said Shyam Raj Thapaliya, managing director of Osho World Travel Nepal. Indian travellers grew by 39 percent to 145,338 in 2011, a 26.7 percent share in total tourist arrivals in Nepal.
However, travel trade entrepreneurs said that LCCs like Spice Jet bringing more tourists would not make any significant impact on Nepal's tourism as they have low connectivity outside Delhi.
"Travellers prefer LCCs for short-haul destinations due to the price factor," said Madan Kharel, president of the Board of Airline Representatives in Nepal (BARN). "However, passenger preference for long-haul destinations will always be legacy carriers."
Nepal Airlines slips to 10th place
KATHMANDU: The market share of Nepal Airlines Corporation (NAC) shrank to an all-time low in 2011 in terms of tourist carriage. The national flag carrier held the 10th position with a mere 3.05 percent. In 2010, NAC had a market share of 4.87 percent. In 2001, NAC was a leading carrier accounting for 28 percent of inbound tourists. The eroding market share of NAC, according to travel trade entrepreneurs, is due to its inability to expand its fleet. "The limited number of aircraft has even compelled NAC to cut its regular flights on the Delhi sector," said Madan Kharel, president of BARN. With more international airlines entering the Nepali skies and NAC's track record of flight delays, travel agencies said the national flag carrier had become the last choice among visitors. Currently, NAC operates its international flights with two ageing Boeing 757s, one of which is usually offline due to technical glitches and periodic C-checks. The carrier now flies to only five international sectors, Dubai, Doha, Bangkok, Kuala Lumpur and Hong Kong, down from around 14 in 2001. NAC has not added any new aircraft in the last two decades. "Without expanding the fleet, it is not possible to lead the market and expand flight connectivity," he added.