NT to introduce cheaper broadband service by August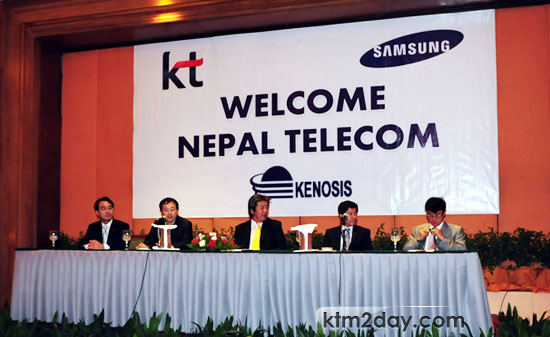 Nepal Telecom (NT) is preparing to offer broadband internet service at a cheaper rate across the country through its Internet Protocol-based Code Division Multiple Access (IP CDMA) project. The state-owned telecom company has said it will start making the service, bundled with the voice service, available to customers by August.
IP CDMA is the next generation telephony service that offers simultaneous operation of voice and data services. NT has been promoting the service as 'Sky Pro', which it defines as the upgradation of the existing Sky Phone/CDMA mobile service.
The speed of the internet under this service will be up to 3.1 Mbps. Initially, NT will launch this service in the Eastern and Central regions. Under the IP CDMA project, NT aims to distribute two million lines across the country.
"This will be a high-speed internet service at lower price, having wide coverage," said Anoop Ranjan Bhattarai, deputy managing director at NT.
He added that NT's already installed microwave links in 72 districts will help it maintain the cheaper rate.
Generally, the use of microwave links for service expansion is less costly for service providers compared to satellite links. NT officials said they have begun testing the service.
Based on the Evolution Data Optimised (EV-DO) technology, NT has targeted to provide voice and data services with a single Removable User Identity Module (RUIM) card to customers from urban, semi-urban and rural areas. NT said the IP CDMA project would help it accomplish its target of taking the broadband internet service to all village development committees.
In wireless data service, NT is far behind its rival Ncell. "This project will help increase our market share in both voice and data service," said Bhattarai, who is also the director at NT's Wireless Telephony Directorate.
The IP CDMA data service will enable users to send and receive large files, high resolution pictures, videos, watch videos and make video calls through their mobile handsets. However, customers will have to buy a different mobile set compatible with EV-DO technology.
According to Bhattarai, the RUIM card price has been set at Rs 600 and NT is preparing to make available the compatible handsets under the service bundling agreement with Samsung and Alkatel's local dealers.
In August 2011, Chinese vendor Huawei Technologies had signed a $30 million contract with NT for the implementation the IP CDMA project in two phases. In the first phase, NT will distribute 1 million lines in the Eastern and Central Development regions.
The remaining 1 million lines have been set aside for the Western, Mid-Western and Far Western regions.
NT plans to complete the project within the next fiscal year. Originally, the service was supposed to come into operation by December last year, but the intervention by the Commission for Investigation of Abuse of Authority, suspecting irregularities, and other procedural redtape had delayed the project.