Handicraft exports jump 32 percent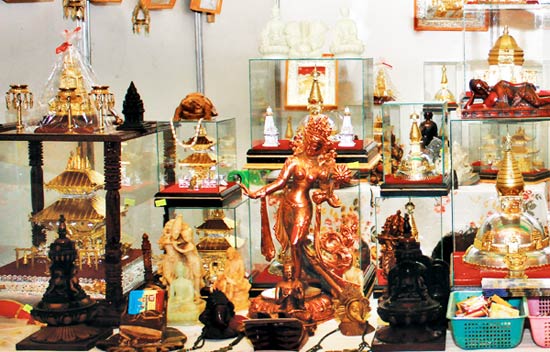 Handicraft exports jumped 32.31 percent to Rs 4.11 billion in the last fiscal year amid a stronger dollar and increased promotion by Nepali entrepreneurs. According to the Federation of Handicraft Associations of Nepal (FHAN), exports in the previous fiscal year 2010-11 amounted to Rs 3.11 billion.
"Although the appreciation of the US dollar against the Nepali rupee could be a reason behind the swollen export earnings, the publicity campaign in the international market is the key reason for the jump in exports," said FHAN President Bikash Ratna Dhakhwa. According to him, many private producers apart from the federation have increased their participation in international trade fairs.
Textile exports surged 33.99 percent to Rs 1.92 billion while exports of non-textile goods jumped 30.86 percent to Rs 2.19 billion. Textile products make up 46.77 percent of the Nepali handicrafts sold overseas.
With exports worth Rs 927.74 million, metal crafts registered the largest jump in 2011-12. According to FHAN, there is growing demand for metal products mainly in China and European countries. "Ritual utensils are among the main attractions," added Dhakhwa.
Exports of woollen goods and felt products came next with shipments valued at Rs 708.94 million and Rs 474.84 million respectively.
According to FHAN, exports of glass products zoomed to Rs 222.22 million from Rs 71.30 million during the fiscal year. The US was the largest buyer of glass goods with exports worth 205.47 million.
According to Dhakhwa, glass products including bags and jewellery made of beads are in great demand in the US.
He added that handicraft traders participated in the California Gift Show twice last year which could also have boosted exports of Nepali handicrafts. Meanwhile, handicraft goods like silver jewellery and products made of dhaka, bamboo and crystal saw a drop in exports.
The US was the largest buyer of Nepali handicrafts with shipments valued at Rs 1.20 billion. In 2010-11, exports to the US amounted to Rs 889.27 million. Germany was the second largest buyer with Rs 364.23 million.