Government to approach ADB for metro railway DPR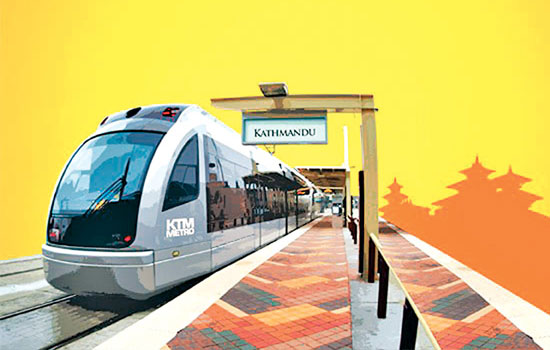 The government is all set to approach the Asian Development Bank (ADB) for the preparation of a detailed project report (DPR) of a metro railway system and feasibility study of a North-South railway link.
The Ministry of Physical Planning, Works and Transport Management is preparing to propose the ADB for this within a week.
In a bid to cater to the demand of mass transport system, the government has planned to a build metro railway system or Mass Rapid Transit System (underground and elevated railway) in the Capital. Korean consulting companies in joint venture with local partners are conducting a feasibility study of the metro railway.
"We will soon be formally proposing the ADB for metro's DPR and in-depth feasibility study of a North-South railway connecting India and China," said a high level official at the ministry. The official said they were working on the study to make it more attractive to prospective investors or seek grant assistance from donors in future for the construction work.
The North-South link is conceived for connecting two neighboring countries as part of Trans-Asia Railway Network. In December last year, Nepal had agreed to be a part of the railway network that will connect the country with railway networks of Europe, enabling uninterrupted movement of people and goods. India and China had also agreed to participate in the Trans-Asia Railway link.
The government has been working on the metro plan for the last three years. According to the preliminary inception report prepared by consulting firms, the metro system in Kathmandu will have five lines with a combined length of 67km. Four lines are planned to be built inside the Ring Road, with the one running around the Ring Road will be 27.35km long. Chungsuk Engineering Company, Korea Transport Institution, Kunhwa Consulting and Engineering Company, Korea Rail Network Authority and two local companies— Building Design Authority and Environmental and Research Management Consultant—are preparing the feasibility study report.
"We hope to get the complete feasibility report within two months," said Ram Kumar Lamsal, director general of the Railway Department. He said that the preliminary report has showed that three lines would be elevated and the other two would be built underground.
The proposed metro network will have 31 stations with its main terminal at Ratnapark, according to the inception report. The metro will cover almost all major bus stops such as Kalanki, Satdobato, Koteshwor, Chabahil, Narayan Gopal Chowk, Gongabu of the Ring Road and New Baneshwor, Singha Durbar and Thamel.