Nepal Telecom launches Wimax service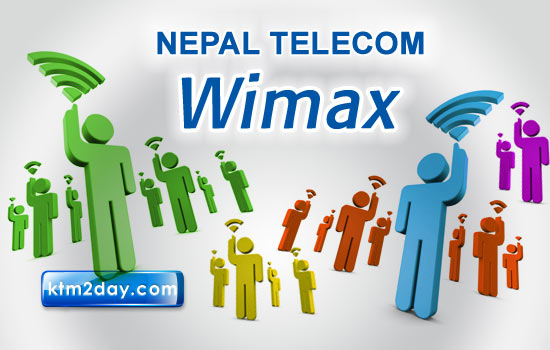 Nepal Telecom (NT) on Monday commercially launched WiMax—wireless broadband internet service.
In the initial phase, the company has targeted to provide the service to the corporate customers of the Kathmandu Valley.
The NT has installed around four dozen base transcriber stations across the Valley for the purpose.
The state-owned telecom operator said that the customers subscribing to the service would be able to get maximum speed up to 20 mbps at much cheaper rate compared to other data services currently available in the local market.
Addressing the launching programme of the NT's new data service, Minister for Information and Communications Raj Kishor Yadav said that the WiMax project would help connect country's rural areas to information super highway.
"WiMax would greatly facilitate the government's plan on expanding the broadband internet service to remote areas," he said.
Through the WiMax project, the NT has been planning to take wireless broadband internet to all 3,915 VDCs of the country within a year.
Subash Chandra Sah, chief of NT's WiMax Project, assured that the service would be covering all parts of the country in one year once installation works in the western part of the country get over.
The WiMax project has a total capacity of 200,000 lines. "We are also in final stage to sign a contract for UBS dongle that enables general customers to use WiMax," said Sah, adding that the service would be available to general customers in the near future.
—————————————————————————————————————————————-
Published on: Nov 9, 2012
Nepal Telecom (NT) is launching its much-talked-about WiMax technology-based broadband internet service on Monday.
In the initial phase, the company has targeted the service for corporate customers of Kathmandu such as business houses, hospitals, educational institutions, diplomatic missions, tourism entrepreneurs, government offices, NGOs and INGOs.
NT has said the internet service would offer band width of up to 20 mbps. "The service is initially being launched with major focus on corporate segment and rural areas with minimum speed of 256 kbps," said Guna Kesari Pradhan, spokesperson for NT. She added the service would be available to general users within three months 'after we fix some equipment related problems'.
Corporate customers will have buy Customer Premises Equipment (CPE) from NT depending on their need. As for general customers, NT will sell USB dongle. Outdoor CPE (device that is capable of providing internet signal for up to 15km radius) will cost Rs 16,000. Indoor device having range of up to 5km will cost Rs 12,000.
The 100,000 lines' capacity internet service, in the first phase of WiMax project, will have coverage within Sanga (East), Balambu (West), Budanilkantha (North) and Dakshinkali (South) of the Kathmandu Valley. Pradhan said they would be taking the WiMax data service to all parts of the country within a year after implementation of the second phase in Pokhara and Bhairahawa.
NT will provide CPEs for free to corporate customers subscribing to the service for at least a year, according to NT. To start with its new data service project, NT has unveiled three types of volume-based service packages—256 kbps, 512 kbps and 1 mbps.
The tariff will be based on packages—from 5 GB at Rs 650 per month to Rs 5,190 for 60 GB package with speed of 1 mbps or above.
NT has also fixed the tariff for WiFi service to be made available after setting up WiFi Hotspots. Customers will have to buy voucher of Rs 50 for using 200 mb internet, Rs 100 for 500 mb and Rs 200 for 1,500 mb. NT will build 1,500 WiFi Hotspots across the country at public locations such as universities, hospitals.