Neoteric Nepal named Gigabyte distributor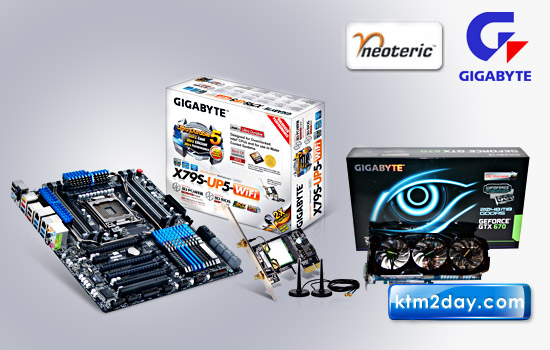 IT products manufacturer Gigabyte has entered Nepal. The Taiwan-based company has appointed Neoteric Nepal as its sole authorised distributor which has unveiled a range of techno products from tablet PCs to laptop computers. However, the company hasn't made a formal announcement of the launch of the brand in Nepal. Gigabyte is best known for its motherboards.
"Gigabyte is a popular manufacturer of IT products, and we are happy to bring it to Nepal for the benefit of Nepali customers," said Ganesh Karna, products manager at Neoteric Nepal. "The formal announcement will be made in December." Neoteric Nepal has initially rolled out one tablet PC model and five models of laptop computers. The tablet, the Gigabyte S1081, has a 10.1-inch capacitive multi-touch LED backlit display. The device is equipped with an Intel new series Atom N2800 processor which features a high performance and low power consumption design. It has a 1.8 GHz CPU, 2 GB RAM and 320 GB hard disk.
What makes this new tablet from Gigabyte different from others available in the market is its operating system (OS). Unlike most tablets which operate on the Android platform, the Gigabyte S1081 runs on Windows 7 OS. "We are excited to bring in this new tablet," Karna said, adding that gadget aficionados, who have been looking for devices using other OS, would like the device. The company is also planning to come up with a Gigabyte tablet featuring Windows 8 OS.
According to Karna, the incorporation of Windows OS has turned this device into a mini computer which enables users to run tasks such as Microsoft Word and Excel, among others. Neoteric Nepal has priced the Gigabyte S1081 at Rs 54,500.
Likewise, the five new laptop models unveiled by the company are the Main Stream Q2432 – DC B960, Main Stream Q2432, Main Stream M2432, Main Stream Ultra Book U2440 and the T1006M Net Book. All these devices are available in core i3, i5 and i7 processor options. They are priced in the range of Rs 38,000 to Rs 85,500.
"With the problem of power outage increasing, the scope of laptop computers has been expanding," Karna said. These new products from Gigabyte will cater to the needs of people from all the economic backgrounds, he added. Moreover, the new laptops come with a two-year global warranty. "Most companies provide a one-year warranty. Likewise, we have priced all these products nominally, compared to similar devices from other companies giving Gigabyte enough room to attract domestic buyers," said Karna.
Neoteric Nepal has stated that it will gradually increase the product range and make these products available in markets throughout the country. The company also has plans to open an exclusive Gigabyte outlet in the future.