iPhone 5 demand weak, Apple halves LCD panel order: Report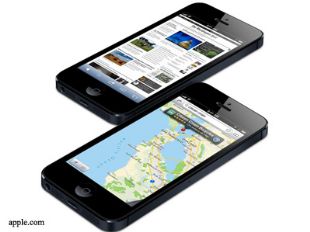 Apple Inc has cut orders for LCD screens and other parts for the iPhone 5 this quarter due to weak demand, the Nikkei reported on Monday, in a further sign the US firm is losing ground to Asian smartphone rivals.
Shares of the Cupertino, California-based company fell more than 4 per cent to $498.20 before the bell on Monday. They closed at $520.30 on Friday on the Nasdaq. The news also dragged shares of Apple suppliers such as Cirrus Logic Inc and Qualcomm Inc.
Apple has asked Japan Display Inc, Sharp Corp and South Korea's LG Display Co Ltd to roughly halve supplies of LCD panels from an initial plan for about 65 million screens in January-March, the Japanese daily said, citing people familiar with the situation, adding the US firm also cut orders for other iPhone components.
The move, if confirmed, would tally with analysts saying that sales of the new iPhone 5, which was released in September, have not been as strong as anticipated.
Apple was not immediately available for comment outside regular US business hours. No one at Sharp was immediately available to comment on Monday – a national holiday in Japan – and parts suppliers to Apple in Taiwan declined to comment.
Apple has lost ground in the $200 billion plus global smartphone market to South Korean rival Samsung Electronics and smaller Chinese rivals such as Huawei Technologies Co Ltd and ZTE Corp.
Jefferies analyst Peter Misek trimmed his iPhone shipment estimates for the January-March quarter on Dec 14, saying that the technology company had started cutting orders to suppliers to balance excess inventory.
Apple also cut its orders for memory chips for its new iPhone from its main supplier and competitor Samsung, Reuters reported in September, quoting sources with direct knowledge of the matter.
The company has been cutting back its orders from Samsung as it seeks to diversify its memory chip supply lines.
SAMSUNG OVERTAKES APPLE
Samsung said on Monday that global sales of its flagship Galaxy S smartphones had topped 100 million since the first model was launched in May 2010. The Galaxy S3, launched last May, sold more than 40 million in seven months.
The new Galaxy S IV is widely expected to be released within months, and may have an unbreakable screen, full high-definition quality resolution boasting 440 pixels per inch, and a more powerful processor.
Samsung has overtaken Apple, helped in part by the popularity of its Galaxy Note II phone-cum-tablet, reinforcing the benefits of offering a wider range of handheld devices at most price points, while Apple rolled out just a single new smartphone last year globally, analysts have said.
Samsung is expected to increase its smartphone sales by more than a third this year, and widen its lead over Apple, according to researcher Strategy Analytics, which has forecast Samsung will sell 290 million smartphones in 2013 versus iPhone sales of 180 million.
Kim Sung-in, an analyst at Kiwoom Securities in Seoul, sees Samsung shipping 320 million smartphones this year and doubling sales of its tablets to 32 million.
Japan Display's plant in Nomi, southwest Japan, where Apple has invested heavily, is expected to temporarily reduce output by up to 80 per cent from October-December levels, the Nikkei reported, while Sharp's dedicated facility for iPhone 5 LCD panels will trim production in January-February by about 40 per cent.