Tribhuvan Int'l Airport to get new domestic terminal next year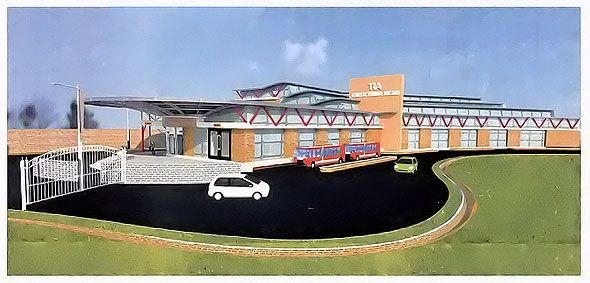 KATHMANDU, JAN 18 – Tribhuvan International Airport (TIA) will likely get a new domestic terminal with improved and advanced facilities next year. Minister for Culture, Tourism and Civil Aviation Posta Bahadur Bogati on Friday laid the foundation stone for the Rs 109-million domestic terminal to replace the old building.
The proposed disabled-friendly building will be erected 30 m to the west of the existing terminal, and construction is expected to take one year. Airport authorities said they had promised the contractor a bonus if the building is completed ahead of schedule.
According to Ratish Chandra Lal Suman, deputy director general of the Civil Aviation Authority of Nepal (CAAN), the terminal building and the road and parking will occupy 4,959 sq m. The existing terminal, designed to handle 384 passengers per hour, was expanded and renovated in 1995. "Although the new airport building has been planned for a temporary period, it will provide double the facilities provided by the old terminal," Suman said.
CAAN has been conducting the first phase of the TIA Master Plan 2026 with a loan and grant assistance of the Asian Development Bank. TIA has been planned to be expanded to 90,000 sq m from the present 36,000 sq m by 2028.
CAAN officials said that the new domestic terminal had been designed to function until 2028. As per the master plan, the present international terminal will be used to handle domestic flights.
CAAN has moved to improve the facilities after endless complaints from travellers about the poor state of the domestic terminal. Passengers and airlines too have been complaining that they have not been getting their money's worth for the airport taxes they are paying.
CAAN is constructing the terminal with its own resources. It said that an area of 571 sq m area will be set aside for airline offices, restaurants and restrooms. There will be a separate domestic cargo handling area. "The existing building could no longer handle the huge volume of traffic," said Suman.
As per TIA statistics, passenger movement at the domestic terminal jumped to 1.55 million in 2010 from 1 million in 2001. Passenger flow is projected to increase to 1.94 million by 2015. Aircraft movement has increased to 99,290 in 2010 from 63,159 in 2001. Domestic aircraft movement has been projected to rise to 115,800 by 2015.
CAAN director general Tri Ratna Manandhar said that focus on a second international airport had slowed down infrastructure development at TIA. "Though late, CAAN has realized that investment in airport infrastructure is vital for sustainability of the aviation industry in the country."
Meanwhile, newly appointed tourism secretary Sushil Ghimire lauded CAAN's initiative to make the new building disabled friendly and said that it should also consider extra facilities for the elderly.