Intel Haswell processors to launch on 2nd June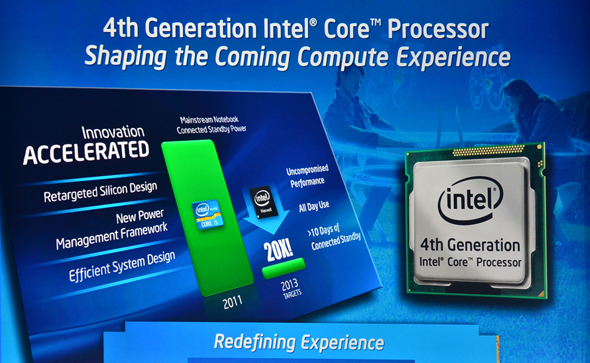 Intel's Haswell line of processors is set to be launched at its own special conference in the run up to the Computex Taipei 2013 show. DigiTimes reports that sources from PC players "noted that the new CPUs will appear on June 2 and related PC products will be showcased at Computex, hosted from June 4-8". The new line of Haswell chips are supposed to bring a new microarchitecture with better performance per clock and lower power consumption than existing Ivy Bridge designs. Haswell will, at least initially, be built using the same 22nm process and using the 3D tri-gate technology as Ivy Bridge chips.
If the DigiTimes tip-off is correct then we shall see a wide range of Haswell supporting hardware at Computex including motherboards, systems, laptops and convertibles, even tablets.
During Q3 Intel expects the new CPU platform to account for 14 to 16 per cent of its total CPU shipments. At this time the "PC players" whispering the ears of DigiTimes reporters expect the "PC market to start recovering" as demand for Windows 8 and new PCs picks up.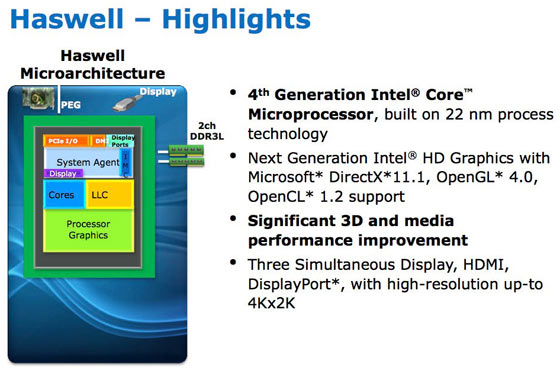 The initial Haswell line-up
Late last week Intel also provided updated 22nm Haswell CPU roadmaps to its production partners, again according to DigiTimes; "The first wave of Haswell processors to be launched in the second quarter of 2013 will include Core i7-4770K, i7-4770, i7-4770S, i7-4770T, i7-4765T, i5-4670K, i5-4670, i5-4670S, i5-4670T, i5-4570, i5-4570S, i5-4570T, i5-4430 and i5- 4430S, the sources revealed". We saw this same line-up of processors in a leaked datasheet in mid-December. However at that time the processors were expected to be launched sometime in April 2013. Also DigiTimes says that Intel will wait until Q3 before launching Haswell based Core i3-series CPUs and high-end Ivy Bridge E processors.
AMD's moving target
Earlier today we learned that AMD is strategically hiring experienced engineers in the field of low power processors and SoCs. AMD's Temash and Kabini are expected in H1 2013, perhaps earlier than Intel's "tock". On the desktop and "performance ultrathins" side of the equation AMD is readying Richland APUs, said to bring a 20 to 40 per cent performance improvement over the previous generation whilst using less power. Richland isn't going to sit atop AMD's performance throne for long, in H2 it is scheduled to be succeeded by the next generation AMD 28nm Kaveri APU.