Nepal Telecom signs pact with Huawei for mega project's 'Package A'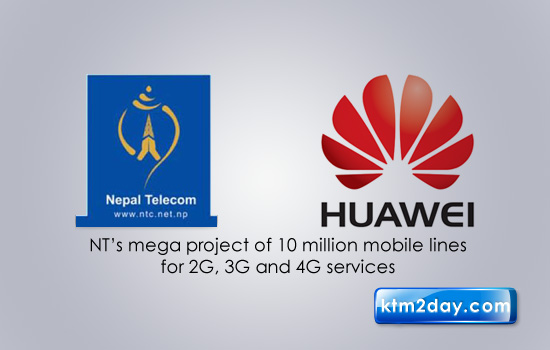 Nepal Telecom has signed an agreement with Chinese telecom vendor Huawei Technologies for adding 5.2 million mobile lines—'Package A' of its 10 million mobile lines project. Huawei will install equipment, commission service and provide managed service for up to five years.
After nearly two months of negotiations, the state-owned company on Thursday signed the contract, which has put the package's cost at $119 million. NT Managing Director Amar Nath Singh and Huawei Solution Manager Huang Ahua and Account Manager Roshendra Khadka signed the contract.
In a tender called by NT last year, Huawei had quoted the lowest $122 million for Package A.
Mobile lines under this package will be available for customers from the Central (outside Kathmandu valley), Eastern, Mid-western and Far-Western development regions within the next two years. NT officials said the signing of agreement delayed as they had to follow the tender conditions and the Public Procurement Act being a government-owned company.
At a press conference here on Friday, Singh said the project would help expand the market with quality service. He added the project could not move ahead at planned pace as selection of vendor consumed more time. The package A suffered delay with prospective venders—ZTE Corporations and Ericsson—refusing to accept it, citing low project cost.
ZTE, Huawei and Ericsson had participated in the tender called for NT's mega project (divided into two packages). With Huawei quoting the lowest, it has also won the contract for Package B—4.8 million lines—last June. The package is targeted for the Kathmandu valley and Western Development Region.
NT said the project (including Package A and B) was introduced to get strong hold in the local market amid growing competition from private sector players. The project also includes 3G and 4G mobile lines capable of providing high-speed wireless data service. The company is also planning to outsource SIM card distribution under the 10 million lines project for ensuring easy availability of the service.
According to NT Spokesperson Guna Kesari Pradhan, the project will help provide quality service as the vendor bagging the contract will also work as managed service provider for maintenance of the network to be installed. In both the packages, Huawei will provide maintenance facility for five years after the lines become operational.
In August last year, NT had called a global tender for the project. The project aims to address the demand for 2G, 3G and 4G mobile services for up to 2015.
The project was delayed due to lengthy evaluation work, investigation of the Commission for Investigation for Abuse of Authority and vendor selection and negotiation processes.