Jac Motors' electric pickup T8 EV with a range of 300 kms launched in Nepali market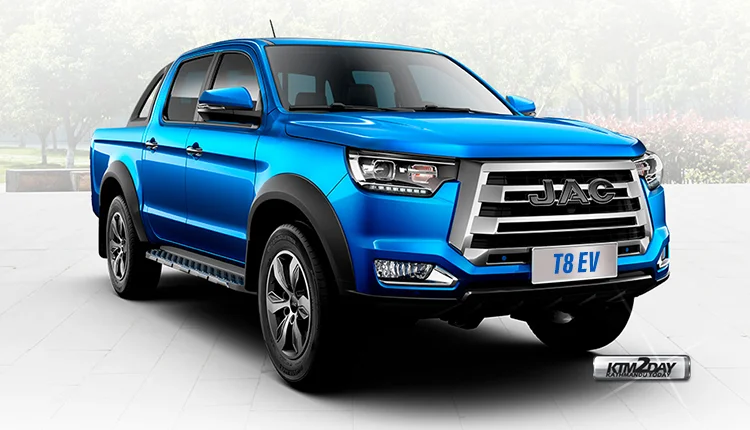 The first electric pickup that can cover a distance of 300 kilometers has been made public in Nepal.
With the slogan 'Electrify Your Adventure' to provide sustainable development and zero carbon emissions, Theego has launched JAC Motors' electric pickup truck JAC E-T8 in Nepali market.
The e-T8 pickup truck can be driven off-road in Nepali terrain or for long distance travel, it gives good mileage and has zero carbon emission.
The electric pickup is loaded with advanced features such as regenerative braking system and brake override system, the pickup has a ground clearance of 197 mm and a turning radius of 7 meters.
The pickup has electro-hydraulic power steering with a maximum speed of up to 90 kmph. It has seats with headrest. Features include digital instrument cluster, infotainment system with reverse camera, central door locking, diamond cut dual tone alloy wheel, side indicator with ORVM, ABS, LED DRL, LED taillamp, headlamp leveling etc.
In Nepal, corporate houses, non-governmental organizations, environmental organizations, large construction companies, etc. are expected to use this pickup. Its value is set at Rs 7.2 million.
Founded on May 20, 1964, JAC Motors produces about 500,000 units of vehicles annually and sells its products in more than 130 countries around the world. It is one of the top five independent companies in China.
'A single charge on this pickup consumes a total of 70 units of electricity. The total cost for that is somewhat aound Rs 350 to Rs 400, 'said Shriram Pokharel, Chief of the Nepal Electricity Authority's Electricity Leakage Division,' but the problem we have is with the charging station. That too will be resolved soon. '
According to Pokharel, a contract has been called for the charging station in collaboration with the private sector.
"It is also the responsibility of the Electricity Authority to provide transformers and power lines for the charging station," he said.
Mukunda Shah, the business development manager of the Theego company, also said that an agreement has been reached between the Chinese team and the Electricity Authority to setup 50 charging stations.
Manager Shah said that to charge this pickup at home, a 32 amp MCB is required.
This pickup is designed for the general younger generation. Shrestha, the founder of Theego, said that it has plans to enter the Nepali market in full phase by April next year.
The electric pickup with a 67.2 kWh lithium iron phosphate battery has a 110 kWh motor. The battery can be fully charged in 2 hours through DC fast charging and 16 and a half hours through AC charging. The company claims that it can cover a distance of 300 kilometers on a single charge.
The price of this electric pickup truck in the Nepali market is set at Rs 72 Lakhs.