Wimax launch for general customers delayed by three more months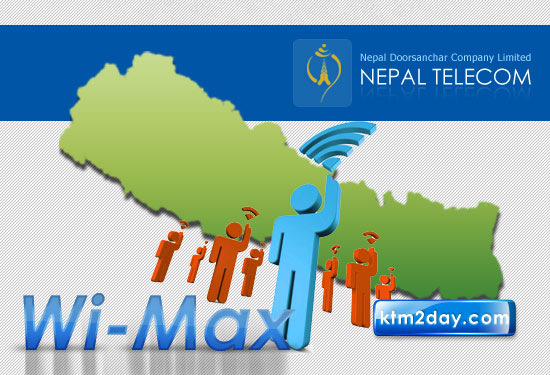 Nepal Telecom (NT) has said it will take around three more weeks to make its WiMax wireless broadband internet service available for general customers. As per the company's original plan, the service was supposed to be available by early January.
This is the second time the company postponed the launch the service for general customers due to the delay in procurement of Customer Premises Equipment (CPE), also known as USB dongle. Prospective customers have to buy the device to connect their computer or laptop to the WiMax network.
WiMax is part of the fourth generation (4G) communications technology that provides high-speed internet service and is considered to be one of the fastest wireless data services in the country.
Currently, NT is offering this service on the basis of three volume based monthly packages — 32GB, 48GB and 60GB — with focus on only corporate customers.
NT officials said two companies — Airmax Technology and Unitech Network — that were outsourced for WiMax service distribution will start receiving the CPEs soon from Chinese suppliers.
As per the agreement reached with NT two months ago, the two companies were supposed to start distributing the internet line before Feb 19. "Procurement of CPEs delayed as the suppliers sought more time due to the Chinese New Year's holidays," said Rajesh Joshi, deputy spokesperson for NT. He said the service will be made available within the next three weeks, i.e. mid-March.
The state-owned telecom utility had signed contracts with the two companies in a bid to provide the service in an efficient manner under a bundling scheme. Based on the agreement, customers will get the CPE and the WiMax service from these companies.
Initially, the companies will set up 13 customer care centres each across the country for the sales of the service and the CPEs with warranty/guarantee.
The centres will also be responsible to provide after-sales services to WiMax subscribers.
Formally launched three months ago, the service is currently available for corporate customers of the Kathmandu valley, Banepa, Dhulikhel, Chautara, Dolakha, Ramechhap, Chitwan, Pokhara, Bhairahawa, Butwal, Palpa, Hetauda, Biratnagar, Itahari, Dharan, Birtamod, Dhulabari, Bhadrapur and Kakkadbhitta.
NT has set a target to distribute 50,000 lines of the service by mid-July this year, also covering 1,800 VDCs of 38 districts.
NT has been planning to take the WiMax service across the country by 2013-end covering all VDCs and municipalities. The company has capacity of 200,000 subscribers, and as per NT officials, around 500 lines have been distributed so far.