International carriers post 8.33 % passenger growth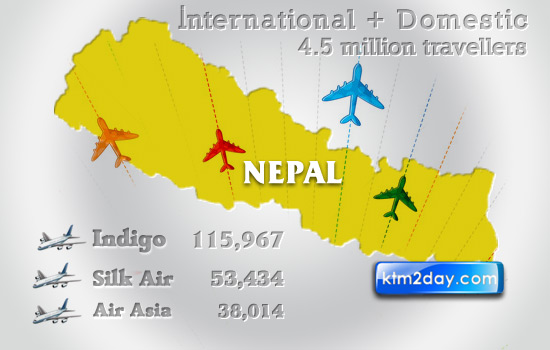 International airlines operating in Nepal posted an 8.33 percent growth in passenger movement in 2012.
Figures released by Tribhuvan International Airport (TIA) show 29 international carriers, including Nepal Airlines Corporation and Buddha Air, flew 2.925 million travellers in and out of TIA last year.
In aggregate, foreign and domestic carriers flew 4.500 million travellers (1.575 million by domestic airlines) in 2012. The figure was at 4.283 million in 2011.
Meanwhile, international airlines' movement increased by 2.31 percent to reach 23,320 flights in 2012. TIA, the sole international airport with single approach system, saw 94,197 take-offs and landings last year. This means 258 flights took off and landed at TIA on an average in 2012.
Doha-based Qatar Airways posted a significant growth in passenger carriage. Qatar Airways, which operates four daily flights from Kathmandu, saw its passenger numbers rise by 28.37 percent to 356,633 year-on-year.
Jet Airways retained its second position, posting a 7.07 percent growth in passenger movement last year. Indian Airlines climbed to the third spot from seventh in 2011 in terms of passenger carriage.
National flag carrier NAC slipped to the fourth spot, with its passenger numbers dropping by 0.52 percent. The carrier flew 200,976 travellers in 2012.
Despite their aggressive marketing in Nepal, all low-cost carriers saw their passenger movement decline. Air Arabia, Spice Jet, Fly Dubai and
Jet Lite saw their passenger movement drop 3.19 percent, 4.32 percent, 10.38 percent and 38.25 percent, respectively.
LCCs entered the Nepali skies four years ago. Air Arabia was the first and the latest entrants are the UAE-based RAK Airways and Malaysia-based Air Asia. Six LCCs—Air Arabia, Spice Jet, Fly Dubai, Indigo, Air Asia and RAK Airways—currently serve Nepal.
According to TIA, Indigo flew 115,967 travellers; Silk Air 53,434, Air Asia 38,014; RAK Airways 25,373; and Malaysian Airlines 18,337.
Nepali private carriers BB Airways and Buddha Air flew 11,082 and 1,976 travellers, respectively.
BB Airways has currently suspended its operation, while Jet Lite withdrew its Nepal flights after its merger with Jet Airways. Other operators withdrawing their Nepal flights include GMG Airlines, Kingfisher Airlines and Bahrain Airlines. Gulf Air has also announced seizing Nepal operations from mid-March.
"As a number of airlines have discontinued their network with Nepal, the daily air seat deficit currently stands around 500," Shyam Raj Thapaliya, managing director of Osho World Travel Nepal. "As a result, airfare has increased significantly."
The TIA figures show that three Chinese carriers—Air China, China Eastern and China Southern—carried 146,620 travellers in 2012. With rising travel demand, China has asked for a revision of the air service agreement to increase seat capacity.
Thai Airways, Gulf Air and Etihad Airways posted growth of 7.7 percent, 6.78 percent and 8.51 percent,respectively.
TOP 10 INTERNATIONAL AIRLINES
| Airlines | Passenger Movement | Growth (in %) |
| --- | --- | --- |
| Qatar Airways | 356,633 | 28.37 |
| Jet Airways | 291,837 | 7.07 |
| Indian Airlines | 214,807 | 40.9 |
| Nepal Airlines | 200,976 | -0.52 |
| Air Arabia | 181,067 | -3.19 |
| Spice Jet | 175,648 | -4.32 |
| Thai Airways | 165,944 | 7.7 |
| Gulf Air | 159,717 | 6.78 |
| Etihad Airways | 137,946 | 8.51 |
| Fly Dubai | 136,453 | -10.38 |